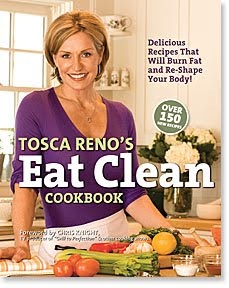 Tosca Reno's latest cookbook is titled 'Tosca Reno's Eat Clean Cookbook: Delicious Recipes That Will Burn Fat and Re-Shape Your Body'.  Just by the slogan of the book it sounded very promising!
The book covers a range of healthy and deliciously presented meals (I really like the photography!).  These include salads, soups, casseroles, meat dishes, desserts, snacks and more. The book also includes plently of tips and tricks to help you get started, prepare and have your meals the 'Eat Clean' way.
The Eat Clean Diet is based around having small meals of 5-6 a day and eating a diet that focuses on eating wholegrains, lean meat, plenty of vegetables, nuts and seeds and some dairy and good fats. It also aims to cut out refined sugars and flours. These are all good very things to have in a diet- The less processed and the more 'wholefoods' you have in your diet the better!
Tosca took the time to answer some of my questions, about her new cookbook. 
Q & A with Tosca Reno:
HFL: On the cover of your cookbook, it says the recipes will 'Burn Fat and Re-Shape Your Body', how will your recipes help to do that?


TR: Many people are surprised to hear that the slim, toned physique they desire is the result of 10% exercise, 10% genetics and 80% nutrition – or what you put in your mouth. If you want to reshape your body, changing your diet is the most practical (and easiest) way. When you Eat Clean you eat the way nature intended by eating the food our bodies evolved to function best on, which is why you begin to feel and look better almost immediately. When you Eat Clean you eat six small meals each day. You eat lean protein, complex carbs and healthy fats, which keeps your blood sugar levels stable and your hunger under control, making it easier to lose weight.

HFL: What is some advice for people who have limited time but who still want to have nutritious meals?
TR: Between work, school, children, family, aging parents and relationships, it seems like everyone has more obligations than they can handle.  Making planned leftovers is a great way to ensure that you always have Clean meals on hand. When you make a recipe, make more than you need. Pack a portion for the next day's lunch and freeze a few individual portions for dinners when time is tight. The concept of planned leftovers doesn't just apply to recipes either. At the beginning of each week, I grill five or six chicken breasts, boil a dozen eggs, make a big pot of brown rice and pre-chop veggies. That way I always have Clean food ready to eat at my fingertips.

HFL: What are some tips you can provide to help people 'Eat Clean' more often and how do you apply to that to your own routine?
TR: The first thing people should do is a complete kitchen overhaul. If you get rid of the junk (candy, chips, pop, processed foods) and stock up on Clean foods, you'll have no choice but to make healthier choices.. Another important tip is to always carry a cooler of food with you. Each night, I pack my meals for the next day in a portable cooler with ice packs. It's so much easier to Eat Clean when you know exactly where your next meal is coming from.

HFL: What are your food staples that you have on a regular basis and recommend to help Eat Clean?

TR: Eggs, oatmeal, grilled chicken, brown rice and fresh produce.

HFL: What are your favourite meals and desserts in Tosca Reno's Eat Clean Cookbook?
TR: This is a difficult question to answer because I have so many favorites! I love the Morning Berry Strata (page 38) and the Clean granola (page 48) for breakfast. The Chickpea Stew (page 146) and the Crispy Stir Fry (page 208) are two of my favorite midday meals. I am a huge fan of the Eat Clean Fajitas (page 240) and the Seared Scallops (page 255) for dinner. And for dessert, I'd have to go with the Tofu Crème Brulée (page 284), the Baked Cranberries and Apple (page 275) and the Chocolate Walnut Brownies (page 288).
 
You can buy 'Tosca Reno's Eat Clean Cookbook: Delicious Recipes That Will Burn Fat and Re-Shape Your Body!
 on Amazon.