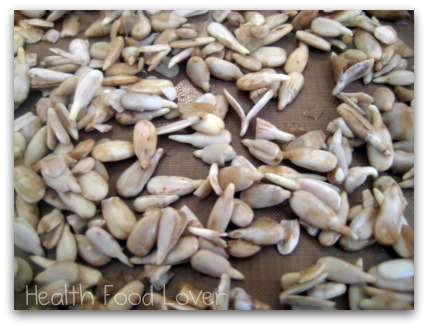 It is really quite easy to sprout your own seeds, nuts, legumes and grains and by doing so it makes them more digestible, nutritious and delicious! And you don't even need any fancy equipment!
The below method applies to many nuts, seeds, legumes & grains. The difference is the time between sprouting. Some foods take a bit longer to sprout then others do.
How To Sprout Nuts, Seeds, Legumes & Grains:

You will need:

1/2 C. nuts, seeds, legumes or grains
filtered water (you need double the amount of water to sunflower seeds)

Equipment:

1 jar
A nut/milk bag (or colander, tea towel and an elastic band) or a colander or bowl or tea towel

How to:

Soak the seeds for 12 hours/overnight in filtered water, in a lidded jar. After that time you may see seed skins floating in the water, if you can, try to remove them (they could go mouldy if not removed). 

You can add the seeds to a bowl of warm water and gently rub the seeds to allow the seed skins to come off. Discard the seed skins.

Add your seeds to a nut/seed milk bag, or instead of a nut/seed milk bag put your seeds in the middle of a tea towel, close the tea towel up with a rubber band and make sure none of the seeds fall out.
Rinse the seed bag or you tea towel and tie it up to hang over a bowl underneath to catch the water droplets.
Every 8 hours (or about twice a day, for two days or so) rinse the bag. Properly rinsing and draining water from the bag will help improve the sprout flavour and prevent them from rotting.
 Once they have sprouted (you will begin to see little tails on the pointy side of the sunflower seed) you can now either dry them on a low temperature in an oven or use a dehydrator (or you could even put them on a tray under the sun on warm/hot day (preferably not windy). This helps to keep them from moulding and increases their shelf life. Or from here you can just add them straight to a fresh salad or in your cereal.

This is a nut/seed milk bag. I just tie the string onto something above the sink or a bowl so it can drain.

Using a dehydrator to dry the sunflower seeds.

I used directions from 'Healing with Wholefoods' by Paul Pitchford (pages: 568-570).
Have you sprouted before, how did it go? I'd love to know your thoughts on sunflower sprouts!
Happy Sprouting!