Here is another quick and easy kefir recipe. For more ways to use kefir, here is a big list of kefir recipes.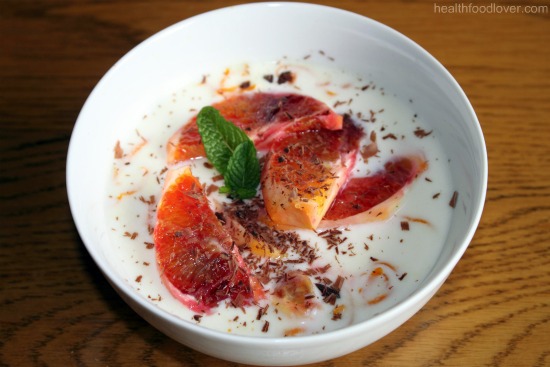 Recipe: Organic Kefir with Blood Orange & Dark Chocolate (Jaffa Kefir)

Ingredients:

~Â 1/2 C – 1 C kefired milk (made from organic milk)
1/2 or a whole blood orange
a few squares of dark chocolate
a few mint leaves, optional.

How to:

Pour the kefir in a bowl.
Zest the orange, and put the zest aside.
Peel the orange and cut into eight pieces.  Add the orange pieces to the kefir.
Grate the dark chocolate over the kefir and oranges. Add the orange zest.
Serve with a few mint leaves, if you desire.

Note: Leaving some of the white part (the pith)Â around the orange means you are including some of the bioflavonids which are in the pith. Bioflavonoids helps to increase the absorption of vitamin C (within the orange).

Enjoy!

© Copyright: 2011 Michelle Robson-Garth. Please ask permission first when using any text or images on healthfoodlover.com . See the disclaimer here.