Recipe: Chicken & Zucchini Pad Thai
Lately I've been loving zucchini pasta in place of the standard wheat-flour pasta. And I've got to say, It is delicious! Last time I shared a recipe for Zucchini Fettucine and now here is a recipe for Zucchini Pad Thai and this recipe is definitely a keeper. I hope you think so too!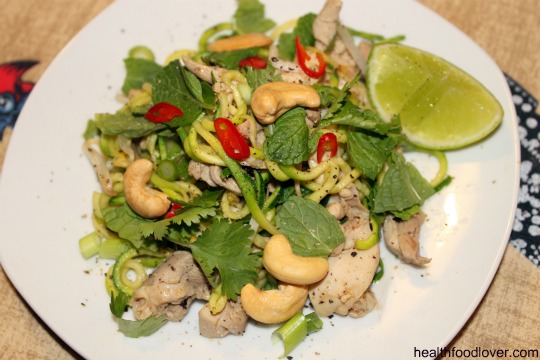 Recipe details: This recipe is gluten free, dairy free and can be made into a vegetarian dish by replacing the chicken with tempeh.
Recipe: Chicken & Zucchini Pad Thai

This recipe can be adjusted to serve more people by adding more chicken, zucchini and mushrooms to the recipe. You can increase the rest of the ingredients by adjusting to taste.

Ingredients:

1 or 2 medium sized zucchinis, per person
1 or 2 thigh chicken fillets (best is organic & pastured) per person/ (or organic tempeh, sliced)
Olive oil
1 tsp. tamarind
sesame oil, a few drops
1 Tb. ginger, chopped up finely
2 garlic cloves, crushed
Button (or shiitake)Â mushrooms, around 1/3 cup per person
Salt and pepper, to taste
1 lime, sliced into quarters
spring onions, sliced thinly
Bean sprouts, about a handful per person
Fresh mint, chopped
Fresh coriander, chopped
Cashews, unsalted
Chilli, sliced (optional)

How to:

Slice the zucchinis into fettuccine like strips or spaghetti-like pieces, set aside.
Slice the chicken fillets (or tempeh) into thin strips. Heat a frying pan and fry the chicken on medium heat till cooked.
Stir in the teaspoon of tamarind, a few drops of sesame oil, the ginger and garlic.
Add the button mushrooms and heat till soft.
Add the zucchini noodles, stir them through so the chicken distributes evenly through the noodles. Cook until the zucchini noodles are soft.  Season with salt and pepper.
In each bowl or plate to serve, add the bean sprouts. Then add the the zucchini-chicken mixture.
Serve with a wedge of lime and top with fresh mint, coriander, a few cashews and season with salt and pepper. Add sliced chillis (optional).
Enjoy!
– – –
© Copyright: 2011 Michelle Robson-Garth. Please ask permission first when using any text or images on healthfoodlover.com . See the disclaimer here.