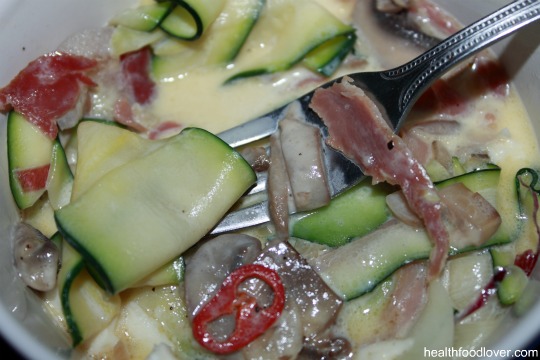 It's always fun to find new ways to cook veggies, especially when they taste delicious and can be a change or alternative to food that isn't too good for us (i.e. spaghetti made with refined white wheat flour).
You may remember I posted about using veggies as pasta before. In that past post, I shared a few "topping" recipes and told you how to make veggies pasta out of carrots and daikons using a noodler. In this post I'll tell you how to make veggie pasta out of zucchini which is pretty pretty good.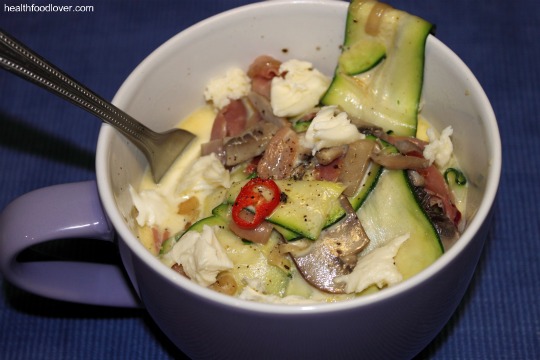 Recipe: Zucchini "Fettuccine" with Mushrooms and Prosciutto Bacon
Makes: 2 serves
Ingredients:
2 zucchinis 
olive oil
butter (best if organic)
1 red onion, sliced thinly
4 button mushrooms, sliced thinly
2 cloves garlic
4 slices prosciutto, sliced into thin pieces (best if grass-fed (pastured)Â and organic)
dairy cream (best if organic)
optional: parmesan cheese (when I made it I tore up a bocconcini instead of parmesan)
salt and pepper
 How to:
Wash the zucchinis and cut the ends off. With a peeler (or a mandolin), peel the zucchini into many long, very thin "fettuccine" like strips. Do both zucchinis until you have a big pile of zucchini "fettuccine".
Heat the olive oil and butter in a pan and cook the onion on medium to low heat until the onion has softened and has become translucent.
Add the mushrooms, garlic and prosciutto and saute until they are all cooked.
Add your zucchini "fettuccine" and using tongs, mix this all together.
Add enough cream to make a sauce and cook until the zucchini is soft.
Serve with a sprinkle of cheese if you like and season with salt and pepper.
Enjoy.
 – – – – – – – – – – – – – – – – – – – – – – – – – – – – – – – – – – – – – – – – – – — – – – — – – – –
© Copyright: 2011 Michelle Robson-Garth. Please don't steal my blog posts. Ask permission first when using any text or images on healthfoodlover.com . See the disclaimer here.