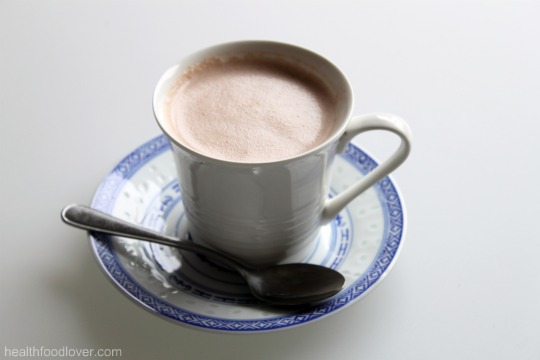 This hot chocolate is a great alternative to those drinks made with dairy, which some may have trouble digesting. It is also refined-sugar free if you use dates to sweeten it. Besides that, this drink is really delicious! Macadamia nuts make a very creamy nut milk, which is dairy-free so it is casein-free and lactose-free. If you don't have trouble digesting dairy, feel free to replace the macadamia nuts + water for a good quality dairy milk, or try this nut milk for a delicious alternative!
Recipe: Healthy Hot Chocolate
Adapted from a recipe by Janella Purcell on Good Chef, Bad Chef
Makes: 1 -2 cups, depending on how thick or thin the nut milk is
Ingredients:
Macadamia nuts, around a handful
~1/2 C to 2Â C water, adjust to consistency
1 or 2 dates, pitted
cacao powder (unsweetened)
optional: a tsp or so of a nut butter of your choice (e.g. macadamia butter, almond butter, cashew butter etc.)
optional: ~ 1 tsp. lecithin granules, this just adds to the creaminess (lecithin is made fom soy, eggs, sunflower or corn- if using soy-derived lecithin granules, make sure to get the non-gm variety)
How to:
Make the macadamia milk: In a blender add the macadamias and water (enough water to make a milk-like consistency; the less water you use the thicker the nut milk will be).
Add the dates and lecithin granules (if using) to the milk and blend till very smooth. If the milk is not sweet enough for you, add another date or two. The lecithin granules just add a bit more creaminess and helps the milk to stay together quite well, due to lecithin's emulsifying properties.
If you like, strain the macadamia milk through a sieve and discard the nut pulp, if you find the milk isn't as smooth as you would like or is a bit grainy.
Add the milk to a saucepan and gently simmer till warm or hot enough for your liking.
Take off the heat and stir in the cacao powder (1- 2 tsp. works well, use more for a dark chocolate drink) and the nut butter, if using.  Serve in a mug and enjoy!
© Copyright: 2011 Michelle Robson-Garth. Please don't steal my blog posts and ask permission first when using text or images. See the disclaimer here.