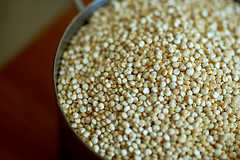 I love quinoa. It really is a such a nutritious food. But is it an economical and ethical choice?
When choosing a food, to be ethical, It's better to consider not only how healthy it is, but also what impact the food has on our environment, how it's grown, the farmer's and produces wages and the impact of our choice on the producers economy and environment.
[Click here for a video on how quinoa is produced]
The perils of globalisation
One of the problems with globalisation- which is process of increasing the connectivity and mobility of the world's markets and businesses- is that there is a cost to everything. We get more access to foods and products we like as part of the world becoming more interconnected. But who loses out? In the case of quinoa, business is in Bolivia booming and the demand for quinoa is high, however for the people of Bolivia, quinoa is becoming a sparse and expensive commodity. Because of this, many Bolivian's are having to substitute quinoa for poorer and much less nutritious refined carbohydrates such as white pasta and as a result some children are becoming malnourished.
Buying ethically and locally
How can we make sure our purchase is ethical and not hurting a countries staple food? The truth is that we can't always tell. Even if a product is fair trade from another country, and there are doubts to the fair trade system and if the product is being sent away from it's country of origin, then how much do the producers really get of their own product? It has been reported that only "Only 10 percent of it [quinoa] stays in Bolivia. The other 90 percent gets exported". Buying quinoa may be increasing the Bolivian economy, but is it to the peril of their health? There are also problems with quinoa production on the environment such as "agro-climatic risks, increased pressure on natural resources, exacerbated disputes over access to land and is disturbances in relations within communities". 
Of course I am not saying we shouldn't buy products from overseas, such as quinoa, but if we're going to buy a product we need to consider how ethical it is and the impacts buying a certain product will have.
Where to find local food? Farmer's markets: 
Farmer's markets are one of the best places to find truly local food. Of the many reasons to shop at farmers markets, is that you can meet the producers and growers! So you can find out how your food is grown, made and produced. Stick to accredited farmer's markets so you know they grew the products that they sell.
At the end of the day, how we spend our money does have a big impact on our health and the world's economy, so spend your dollars wisely and ethically!
*Update 5 April '11*: I've now found an Australian Brand of Quinoa. It is produced by Mount Zero and you can find it at their website: http://www.mountzeroolives.com/
[Photo credit: sweetbeetandgreenbean]