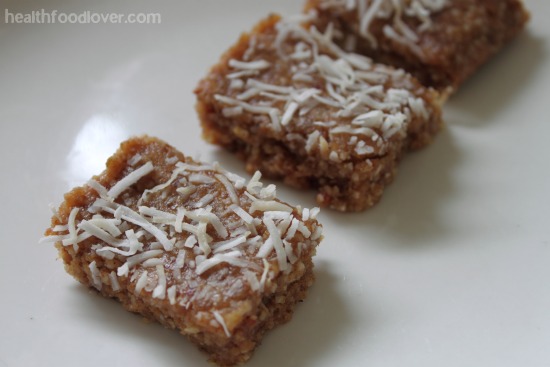 Want something healthy that is quick to make, delicious and a great snack for school or work? Here is my recipe for Healthy Fruit and Nut Bars.
Healthy Fruit and Nut Bars

Allergen info: egg-free, gluten-free, dairy-free, grain-free

Ingredients:

dates, pitted & chopped into small pieces
walnuts, shelled
dried coconut, preservative-free
~ 1 Tb. honey
~ 1 Tb. of coconut oil
~ 1 Tb. almond butter

Note: I used equal amounts of dates, walnuts and coconut but you can adjust those amounts to your liking.

How to:

In a food processor, mix walnuts till the texture of bread crumbs. Process in dates coconut. Add in honey and almond butter and mix again.
Process until the mixture comes together like a thick dough.
Roll out and/or press into a wide tin lined with baking paper and place in the fridge till firm and chilled, the slice into squares or bars.
Enjoy!
For more healthy recipes check out the recipe index.
© Copyright: Michelle Robson