Recipe: Homemade Soaked Chickpea Hummus
By request, here is my recipe for Soaked Chickpea Hummus. As you'll see from the recipe below, it's a pretty easy to whip together! I hope you enjoy it!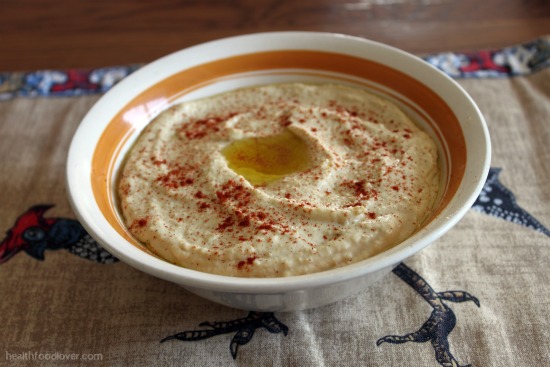 Ingredients:
1 C. dried chickpeas (or 1 can of cooked chickpeas)
optional: a strip of kombu
2 Tbs. tahini paste (hulled sesame seed paste) (see Tahini recipe here)
2 garlic cloves, peeled
1-2 lemons, juiced
1/2 C. olive oil
water
salt & pepper, to taste
paprika, olive oil, to serve
Step 1: Soak the chickpeas
Add the dried chickpeas to a bowl and cover with water and then a plate. Leave to soak (with the strip of kombu if using) for 12-24 hours to soften, rehydrate and increase digestibility of the chickpeas.  If I use canned chickpeas, I rinse them, drain the water out and still soak them in a bowl for a few hours before I use them. This also helps to reduce flatulence!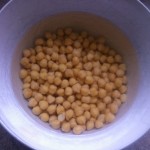 Step 2: Cook the chickpeas
After that time drain out the soaking water (& take out the strip of kombu & discard). Cook your chickpeas in water with a lid on medium heat till very soft.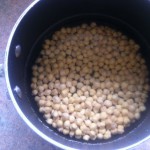 You want them to be soft enough so that they can be easily mashed by gentle pressure with a fork.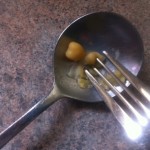 Step 3: Rinse the chickpeas

If the chickpeas are cooked well and soft, drain the water out of the pan and strain the chickpeas in a colander.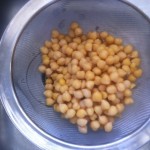 Step 4: Blend
Blend the chickpeas in a blender (or food processor) along with the tahini, garlic cloves, cumin and lemon juice. Add water (a few tablespoons at a time) to get a smooth paste-like consistency. Add in salt and pepper and season to taste.
To serve: place the hummus in a bowl, add a bit of oil in the middle of the hummus and sprinkle with paprika (and chili if you like).
Enjoy!