Hi Everyone.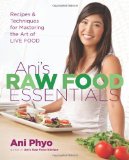 Thank you to everyone who entered the giveaway to win Ani's Raw Food Essentials! You all had some great answers.
And the winner is (chosen via random.org)… Henria O.
Congrats Henria O. ! I'll be contacting you soon!
– – –
By the way, for those that haven't seen this, check out fellow real food blogger Christina who recently got some praise on her great blog Spoonfed, from Jamie Oliver!
Click here to view her post all about it and watch the video where Jamie talks about her!