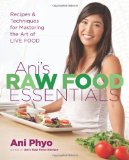 Do you love raw foods? Do you love winning things? Well now is your chance to combine the two! in this giveaway you can enter to win a copy of Ani's Raw Food Essentials! Want to know more about the book? Have a read  of the review I wrote and check out the recipe I included in the review!
Okay so how to win? All you have to do is answer the following question: Have you ever tried a raw food dish, if so what was it and what was it like?
For more chances to win:
Follow health food lover on twitter @loverhealthfood and tweet the following: "Enter to win a copy of Raw Food Essentials by Ani Phyo http://wp.me/pUqsc-10x". (1 entry)
Add health food lover to facebook. (1 entry)
Subscribe to health food lover by RSS or get blog updates by email. (1 entry)
Email to three friends (1 entry)
Mention in a blog post (2 entries)
There you go, so there a possible of 6 ways to enter!
Competition notes:
This is only open to US and Canadian residents.
The winner will be announced on the 4th of October.
If you have any questions ask them in the comment section below.
Good luck everyone!
Thanks to AniPhyo.com and Dacapo Press Cook Books for the opportunity to host the giveaway.