I've been so inspired by blogger and fellow Naturopathic student Katey (aka Bonne Santé). Lately in her recipes she has been featuring the mighty little seed known as Amaranth!
Check out Bonne Santé's latest Amaranth recipes:
Katey has been sharing with her readers savoury Amaranth recipes so I thought I would share one of my recipes, a sweet Milk & Honey Amaranth Pudding (recipe below). Unlike Katey I'm not a vegan, so sorry to those vegans out there, however I have added a few vegan adaptions for those who want to vegan-ize the recipe.
Amaranth
I do love this powerful little seed. Amaranth has a similar nutritional content to Quinoa, both which are gluten-free seeds (1). Not only is it tasty and versatile but it is also very nutritious! It has a relatively high protein, mineral and vitamin content (2). Amaranth also has a much milder taste than Quinoa so may it be preferable to those who find Quinoa bit strong.
The nutrient values for Amaranth are as follows (2):
Protein: 13.5-14.4 Kcal/100g
Fat: 7.1-7.6 Kcal/100g
Carbohydrates: 63.8-71.7 Kcal/100g
Water: 3.0-12.3
Energy Value: 373-412 Kcal/100g
Vitamins (mg/100g):
Thiamin: 0.019-0.029
Riboflavin: 0.100-0.143 riboflavin
Niacinamide: 1.02-1.20
Pyridoxin: 0.563-0.615
Minerals (mg/100g):
Ca: 204-223
P: 712-792
Fe: 8.3-9.7
Mg: 200-235
Zn: 2.9-3.1
Cu: 1.03-1.38
Mn: 3.78-4.54
Na: 6.30-8.42
K: 318-337
Cr: 0.040-0.055
Ni: 0.185-0.292
Co: 0.045-0.051
cadmium ranged 5-9 micrograms/100 g
lead 27-35 micrograms/100 g
Amaranth may even have antitumour properties (3)
– – –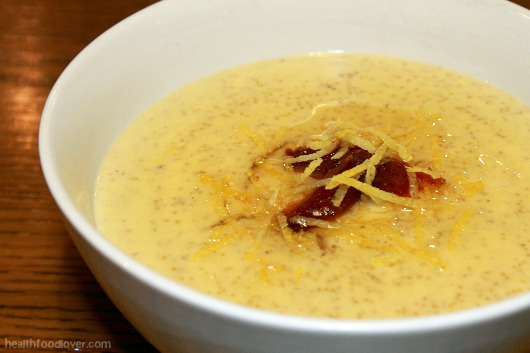 Milk and Honey Amaranth Pudding
Makes: 2 small serves
Ingredients:
1/4 C. amaranth seeds
water (to soak)
1.5 C. milk (or coconut milk)
1 t. lemon zest
lemon zest, extra
2 dates, chopped into small pieces
3 egg yolks (or 3 T. chia or flax gel- or leave out)
1 T. extra cold milk and 1 T. arrowroot powder, mixed together
1 T. honey
honey, extra to serve
How to make Milk & Honey Amaranth Pudding:
Rinse amaranth and then soak it in about 1.5 cups of cold water overnight. The next day, drain the water away.
Simmer milk, lemon zest, most of the chopped dates and soaked amaranth in a saucepan till the amaranth is soft and translucent (around 25 minutes). Stir the milk and amaranth to prevent it burning and to prevent protein clumping on top of the milk.
In a separate bowl, beat the eggs (or chia/flax gel), honey, T. of milk and arrowroot powder till creamy. While quickly beating the eggs, begin to place one tablespoon at a time of the hot milk-amaranth mixture into the eggs. Your aim is to make a custard so keep stirring so you don't create scrambled eggs.
Place the amaranth custard in a bowl over a pot pf simmering water. Nb: the bowl needs to be wider than the pot and fit on top of it so it gets cooked by the steam from the simmering water below. Don't let the water touch the bowl otherwise it cook the custard too quickly and sadness will ensue.
Keep stirring the custard until it is thick (due to the arrowroot) and the serve with extra lemon zest, chopped dates and honey.
Enjoy!
Note: you can save half of the custard, refrigerate and enjoy cold for breakfast the next day- delicious lemony goodness!
Enjoying Amaranth,
Michelle.
Note: Don't forget to enter the competition to win a copy of Ani's Raw Food Essentials.
Linked up to Pennywise Platter, Food Renegade, Vegetarian Foodie Fridays,