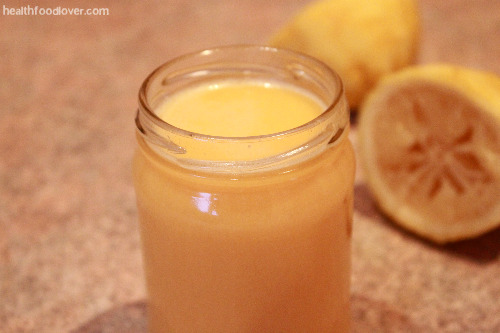 What I love about making food with whole foods is that you can make healthier alternatives of foods you can buy at the shops. Why bother you ask? Well because making these alternatives can be so easy, healthier, cheaper (and so much tastier) than their unhealthy counterparts.
Last week I made some decadent lemon curd sweetened with raw honey. It was so nice I HAD to share the recipe with you all! I like to make it really lemony so I use all the zest from the lemon and all the juice as well. My recipe also uses raw honey (or substitutions (see below)) and there is the option of making this dairy free by using coconut oil instead of butter.
Lemon Curd is really similar in a way to hollandaise sauce (but lemon curd is sweet, thicker and without the vinegar). That similarity is what inspired my recipe for the Sweet Breakfast Omelette (below). Other ways you could serve or use the lemon curd is on spelt banana pikelets.
(below), in a lemon meringue pie or just on a piece of toast!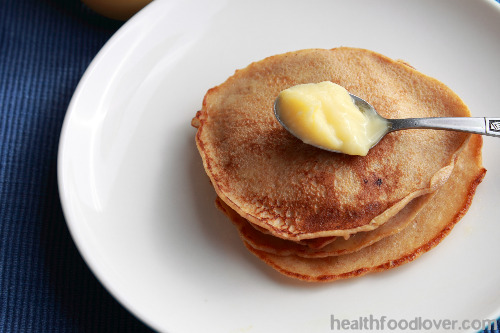 The lemon curd was a great addition to these spelt banana pikelets.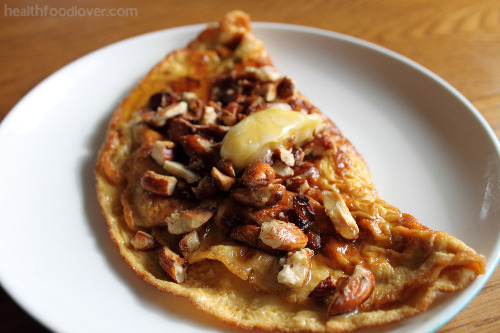 Here I used the lemon curd as a spread in the omelette as well as a teaspoon on top of it.
– – –
Lemon Curd
Makes: ~ ½ cup- 1 cup
Ingredients:
2 egg yolks*
1 lemon**, juiced and zested (discarding rind and pips)
2 T. (heaped) raw honey/rapadura sugar/ maple syrup
optional: 1 t. vanilla extract
½ C. organic grass-fed (I used salted) butter or ghee or coconut oil (you can use less than this amount to give it a less thick consistency)
How to:
Grate the zest of the lemon (I used a microplane) and juice the lemon (a  good way to juice a lemon is to hold it upright when squeezing it so pick out the pips easily).
In a bowl beat together the egg yolks, lemon juice, zest, and raw honey (and vanilla if using) till thick.
Place the bowl over a few cm of boiling water in a sauce pan. Keep whisking the mixture and turn the heat down to medium low and make sure the water does not touch the bowl (otherwise it will cook the eggs- not what you want). Keep whisking the mixture.
As you whisk, add 1 tablespoon at a time until each is melted and the mixture thickens and coats the back of a spoon.
When it's done, pour the mixture through a fine mesh strainer (discarding the lemon zest and any cooked parts of the egg) and pour into a hot sterilized jar. Add the lid and leave to cool, then place in the fridge to thicken.
Notes:
*You can keep the egg white by freezing it in a ice cube tray and then moving it into a ziplock bag to store in the freezer.
**I used a large organic lemon as often lemons have a waxy coating which I'd prefer not to eat but use whatever is available to you [source].
Enjoy this decadent lemony goodness!
Michelle.
So now I have a question for you all: What kinds of food do you like to make at home (that could usually be bought from the store)?