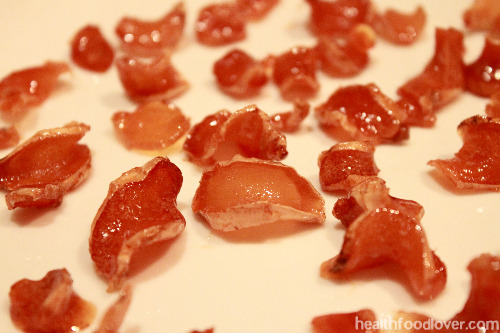 Crystallized ginger is really yummy and so much better when it's made with honey (rather than white sugar as it's often made with). This homemade version also doesn't contain preservatives.
The process of making crystallized ginger produces three things: first ginger tea, then crystallized ginger and then with the left over honey you can make honey lollipops (if you like).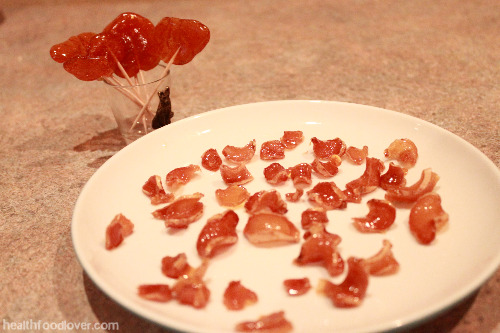 The ginger tea is really gingery due to the amount of time the ginger simmers for. So if you don't want to drink it straight away you can pour it into a jug, cool it and drink it later on like ice tea. You can also dilute it with water (if it's too strong). Other things you can do with the ginger tea: freeze some as ice cubes, add to your fermented drinks such as water kefir or use to make ginger beer or you can freeze the ginger tea in ice cube trays and then crush them to make a granita of sorts.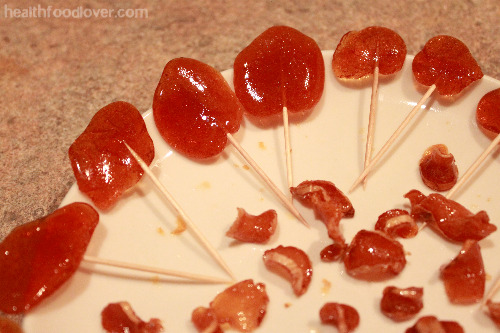 – – –

Crystallized, Tea and Ginger & Honey Lollipops
Ingredients:
fresh ginger
water
3-4 T. raw honey
toothpicks (or the lollipops)
Directions:
For the tea: Slice the ginger thinly. Place in cold water (1-2 cups), bring to a boil and then simmer in a sauce pan for 10 minutes. Pour this water into your jug to drink later and repeat this process once more and then add the rest of the liquid into the jug.
For the crystallized ginger: With the remaining ginger slices (which should be quite soft now) rinse them and put them back in the saucepan and add the honey. You want the honey to completely cover the ginger so add more or less (than i've recommended) to make sure it is covered.
Now turn the heat on very low and simmer for half an hour. You want the honey to start to get foamy and for it to start to 'crack'.
The honey will start to get really viscous and sticky. This is good because you want the honey to stick to the ginger (and later to stick the toothpicks for the lollipops).
Okay so once the honey is really hot and at the hard crack stage- with a fork (and being very careful not to burn yourself) take each piece of honey-covered ginger out of the sauce pan, tap the ginger on the side of the saucepan to leave excess honey in the pan then place each piece of ginger on a piece of greased baking paper until all the ginger is on the paper and you have a saucepan full of honey. Leave the ginger to dry. (The honey should dry and harden).
For the lollipops: On another greased piece of baking paper, spread out around 6-10 toothpicks (so they have enough room for the honey to spread out). Dollop about a 1-2 t. of the honey mixture onto one end of each toothpick and leave to dry. When they have hardened you'll be able to peel them off the greased baking paper.
There you go- there are three recipes and three yummy ginger foods! I hope you enjoy these. By the way the ginger would be great as a an easy-to-make alternative to cough lollies.
This was added to simply sugar and gluten free, two for tuesdays, make it yourself monday, pennywise platter 22nd July
Do you like ginger? What foods do you like to make with ginger?
To health and happiness,
Michelle.