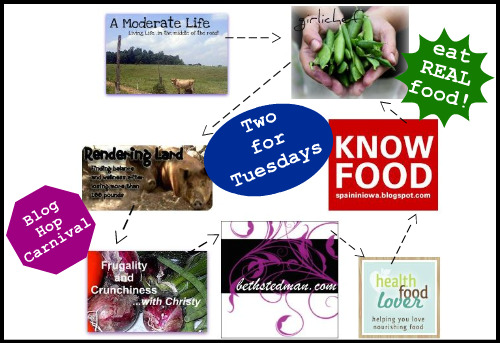 Hey there. Welcome to the 6th volume of Two For Tuesdays. I've been absent from Two For Tuesdays for a while but i'm back now to join this wonderful carnival.
Who are your Two For Tuesdays Hosts?
They are:
Yes there is many of us, seven in fact. But the one thing we all most have in common is that we love Real Food!
So how does this carnival work?
Similar to my carnival Wholesome Whole Foods, this carnival is all about real food. But unlike my carnival, this carnival is his hosted among many blogs in what's called a Blog Hop. In this blog hop the seven hosts will all put up a widget which allows you to add your real food blog posts.
How to participate:
1. Add your recent real food blog post into the linky along with your name/blog name /post name.
2. Link back to any of the hosts blog carnival posts.
That's it!
If you can it would be ideal if your post could include two recipes hence the Two For Tuesdays blog hop name.
Hope you enjoy the carnival and don't forget to check out the other hosts contribution to the carnival as well.
My contribution is Crystallized Ginger, Ginger Tea and Ginger-Honey Lollipops!