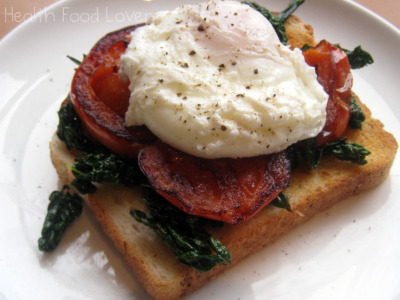 Do you have trouble getting dark leafy greens in your diet? Sautéing your greens is a great little fast and tasty trick to help you eat more of those good-for-you-greens! If you sautée with a little bit of fat such as olive oil, butter, ghee or coconut oil this can actually help you to absorb some the nutrients in the greens (and it makes the greens taste really good!).
I like to sauté with ghee because as it is a clarified butter,it has the milk solids removed and this actually gives it a higher stable cooking temperature.
Research:
A study from 2009 by Kuwabara found that cooking greens with oil helped to absorb Phylloquinone (Vitamin K1), a fat-soluble vitamin [source].
Organic Poached Egg, Sautéed Buttery Kale, Garlic and Roasted Tomato
Serves: 1
Cooking Time: 5- 10 minutes
Ingredients:
1 egg
1/4 C. vinegar
a handful of torn kale leaves, washed and dried
1 tomato, thickly sliced
1 T. butter, ghee, coconut oil or olive oil
1 clove garlic, crushed and chopped
1 piece of sourdough bread
salt, pepper and butter (optional) to serve
How to:
Poach the egg in water and vinegar until the egg is white but still has a soft yolk. Keep in the water (stove turned off) until you're ready to serve (it keeps the egg warm that way).
Sautée the kale with your oil of choice and garlic until the kale has wilted and the garlic has become slightly crispy. Take the garlic and kale out and now roast your slices of tomato in the pan until they brown slightly on each side and become softer.
Toast your sourdough bread, spread with butter and then top with the kale + garlic, tomato, poached egg and a sprinkling of salt and pepper.
Enjoy!
You may also like to read:
Submitted to Vegetarian Food Fridays.