It's stone fruit season! So what better way to celebrate the delicious time of year than with a delicious fresh salad!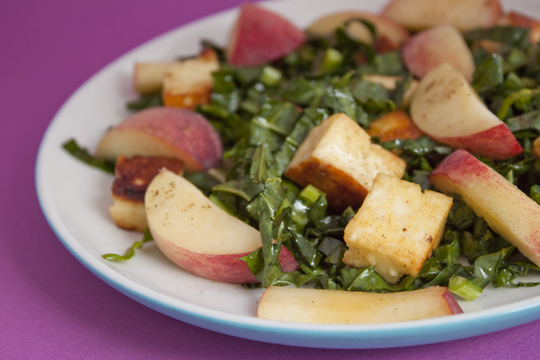 Recipe: Kale, Nectarine and Halloumi Salad
Serves: 1 or 2 (as a side dish)
Ingredients:
a few leaves of curly kale
1 white fleshed nectarine, cut into slices and pitted
100g block of halloumi, cut into 2cm cubes
butter, to cook with
olive oil, to dress the salad
How to:
Wash the kale and then cut the kale into very thin slices. Add the kale to one or two plates (depending on how many serves you would like this to make).
Cut the nectarine into wedges and add them to the plate(s).
Cube the halloumi into cubes, then grill the halloumi in a pan with the butter. Add the halloumi to the salad. Dress the salad with a bit of olive oil.
Enjoy!