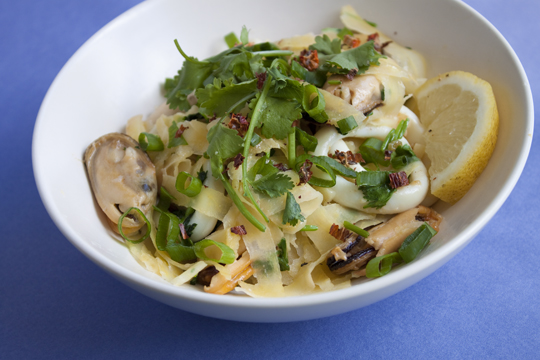 Recipe: Seafood & Sweet Potato Noodles
Makes 2 -3 serves
Ingredients:
How to:
Peel the skin off of the sweet potato using a potato peeler and discard the peels. Use a spiralizer to slice the sweet potato into noodle-like shapes OR use a potato peeler to peel the sweet potato into fettuccine-like strips (which is what I did). Do this to the whole sweet potato. In a pot of boiling salted water, cook the sweet potato until very soft. Drain the water away and set the sweet potatoes 'noodles' aside.
In a pan, heat the butter, garlic and coriander roots & stems in a pan and then add the mussels. Cook on medium heat until cooked through. Add the squid rings and cook for a few more minutes. Now add the sweet potato 'noodles' to the pan and gently stir it through to combine with the other flavours in the pan.
Serve with the chopped coriander, sliced spring onions and lemon wedges.
Enjoy!