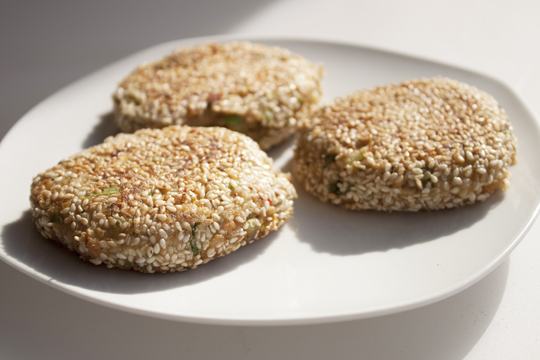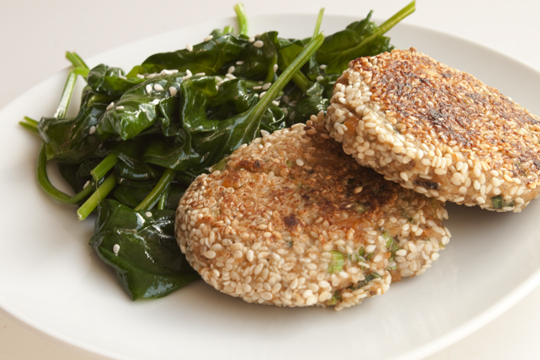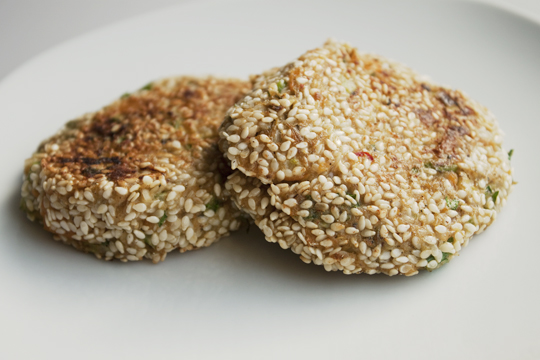 Recipe: Sesame-Crusted Sardine, Fennel and Sweet Potato Cakes

Diet type: Pescatarian, Gluten-free

Diet tags: Gluten free

Number of servings (yield): 8 (~ eight patties)

Ingredients

230g sweet potato, peeled and chopped into small cubes
210g tinned sardines (oil drained away- or give the oil to your cat!)
1 stick of celery, washed, leaves cut off
1-2 garlic cloves, crushed
1 tbsp. parlsey, finely chopped
1 tbsp. fennel bulb, minced
(optional) 1/2 fresh red chilli, sliced (seeds discarded)
salt and pepper to taste
1 egg, beaten
sesame seeds (around a cup or so)
coconut oil

Instructions

Peel the sweet potato, chop it into small cubes and then steam or boil them until they are very soft. Then using the back of a fork or a potato masher, mash the sweet potato until it is very soft and smooth.
Take the sardines out of the tins and drain the oil away. Add the sardines to a bowl and mash them until you have an almost paste-like mixture.
Crush the garlic clove(s), chop the celery stick into very small pieces, chop the parsley and the tbsp. of fennel bulb and chilli. Mix these into the mashed sardine mixture. 4. Season with salt and pepper.Now mix in the mashed sweet potato and egg.
Using your hands, form about 1 tablespoon worth of the mixture into a ball and then flatten it.
Pour some sesame seeds into a bowl and dip the sardine cakes into the sesame seeds covering the whole of the cake with sesame seeds. Repeat with the rest of the mixture.
Melt some coconut oil in a pan and cook the sardine cakes in the coconut oil on medium-low heat until they are lightly browned, firm and cooked through.