Thes pancakes are protein-rich, dairy-free, flour-free, grain-free and gluten-free. The recipe is adapted from SCD Kat's Banana Pancake recipe. I thought I would share Kat's recipe because they're pretty delicious and it just goes to show how you can make delicious things for breakfast that do not have to contain any grains (if that's your diet style)! These pancakes also have a great texture that is similar to those made with flour. They're actually quite similar to my Sweet Breakfast Omelette recipe just with banana added. So if you liked that recipe you will love these banana pancakes! I've made these many times now and I've found the trick to making them cook well is to up the egg content. I've also made these with frozen berries instead of banana, but I like banana best.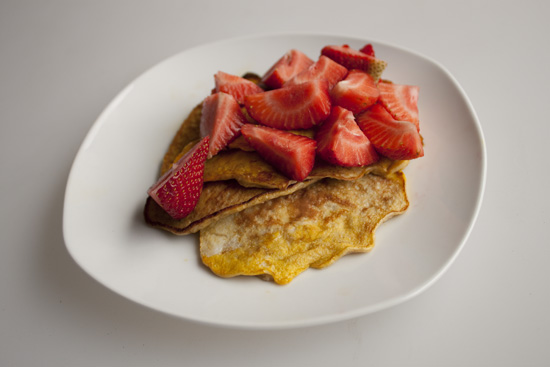 Recipe: Paleo Banana Pancakes with Fresh Strawberries

Allergen info/recipe info: This recipe is gluten-free, dairy-free, wheat-free and grain-free.

Makes: 10+ pikelet-sized pancakes

Ingredients:

1 large banana
4 eggs (best: from pastured chickens)
~1 tbs. clarified butter/ghee/coconut oil
Fresh strawberries, washed, quartered, and greens cut off

How to:

Mash the bananas. Beat the eggs and add them to the banana and mix until it is all fully blended.
Heat up a pan. When hot add the red palm oil and spoon the pancake mixture onto the pan. When the pancakes start to look a bit dry, flip them over and cook each side until brown. Continue with the rest of the pancake mixture until they are all cooked.
Top the pancakes with the strawberries and enjoy!
© Copyright: 2012 Michelle Robson-Garth. Please ask permission first when using any text or images on healthfoodlover.com . See the disclaimer here. Have a look at the recipe index for more health food lovin' recipes. Join the Facebook page & follow Health Food Lover on twitter.