Ever since I read Karen Fischer's book the The Healthy Skin Diet: Your Complete Guide to Beautiful Skin in Only 8 Weeks! (see my review here) a few years ago, I have loved to make smoothies that are great for the skin; smoothies that help to build and restore it. It's great to know that just eating or drinking something delicious can have such visible effects as well as providing your body with a whole heap of nutrients.
This is how it's great for your skin: Lecithin (also known as phosphatidylcholine) is a component of cell membrane (which governs what goes in and out of our cells), important for nerve function and it is helpful for digesting fats so it is also may be helpful in aiding weight loss. It's naturally found in foods such as eggs, beef, liver and certain legumes. Combine lecithin with flax seed (linseed) and it helps your body to absorb the good fats (in this case alpha linolenic acid which converts eventually to EPA & DHA) in the flax it self which are anti-inflammatory, important for our brain's structure and the healthy of our skin, among it's many other functions. This smoothie also contains vitamin C (in the berries) which is important for your adrenals glands as well as being important in collagen formation.
The mint I added for flavour and also because it's great for your digestion.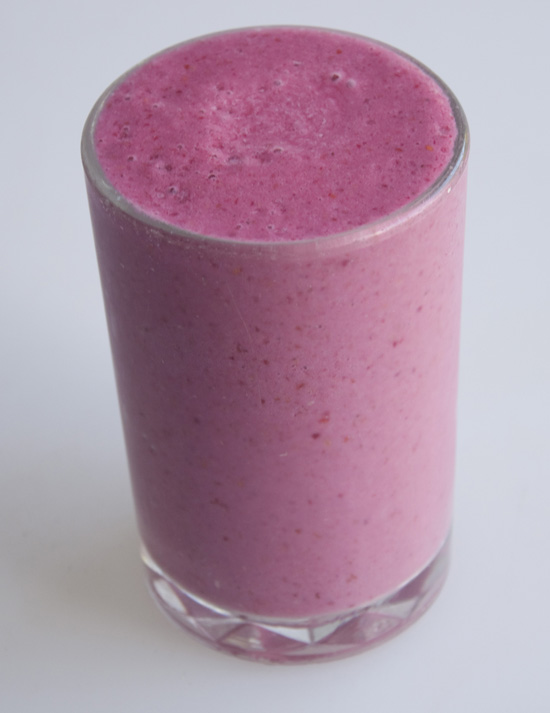 Recipe: Mint & Berry Great Skin Smoothie

Ingredients:

water, a few tablespoons
1 Tbs. lecithin granules (non-gmo) (or 1 pastured egg yolks)
1 Tbs. flax or chia seeds*
1 C. of almond milk (or another alternative milk of your choice/grass-fed dairy milk)
~ a handful or so of frozen berries of your choice (I used a mix of blackberrys, blueberries and raspberries)
A few fresh mint leaves, or to taste

*If you're using chia seeds you may want to add more liquid as when chia seeds come in contact with water they tend to produce a mucilage which may make the smoothie a bit thick.

How to:
In a blender, first add the water, lecithin/egg yolk and flax/chia seeds and blend until they are smooth. Add the milk and blend. Add the frozen berries and blend until it becomes a smooth consistency. Enjoy!
© Copyright: 2012 Michelle Robson-Garth. Please ask permission first when using any text or images on healthfoodlover.com . See the disclaimer here. Have a look at the recipe index for more health food lovin' recipes. Join the Facebook page & follow Health Food Lover on twitter