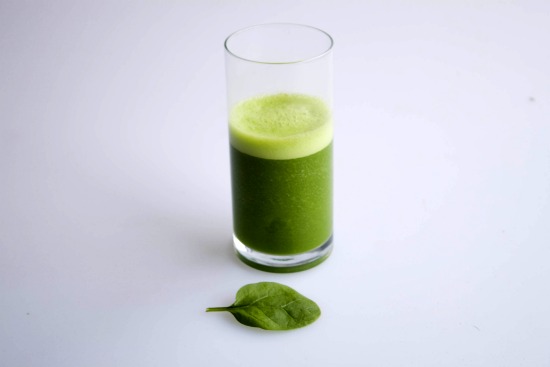 Here is another green smoothie, this one is pear, mint and ginger flavoured. As with most green smoothies, even though they are vibrantly green, they actually do not taste like the greens within the smoothie, rather they have the flavour of the fruit in the drink. Not sure? Try it for yourself and see.
Recipe: Pear, Mint and Ginger Green Smoothie

Serves: two

Ingredients:

2 handfuls of green leafy veggies, such as spinach or kale (stalks removed)
filtered water, enough to make a consistency you like*
optional extras: 1 tsp. of whole flax seeds (or flax seed oil) and 1 tsp lecithin granules
1 pear, cut into 2, frozen and seeds removed
1 piece of fresh ginger ot to taste
a few leaves of fresh mint or to taste

How to:

In a blender, blend the greens and the water till the greens have broken down and dissolved into the water.
Add the flax and lecithin (if using) into the green water and blend till they have broken down into the drink.
Now add the pear pieces, ginger and mint and blend until the drink has a smooth consistency. Â 
Enjoy!

*Note: I like green smoothies to have the consistency similar to a juice so I add quite a bit of water, but add as much or as little water as you like.
© Copyright: 2011 Michelle Robson-Garth. Please ask permission first when using any text or images on healthfoodlover.com . See the disclaimer here.