Foods don't have to be full of artificial flavours to be delicious. There are so many foods to make food tasty and which can naturally flavour and increase the nutritional benefit of our foods. Some foods such as ginger can even help to improve our digestion. Think: fresh and dried herbs and spices, peppers, fruits etc.
In my recipe for Caramel Buckwheat Pancakes, I've used Mesquite powder to give the pancakes a lovely caramel flavour. I've also soaked part of the mixture in order to help decrease phytic acid content and make it more digestible.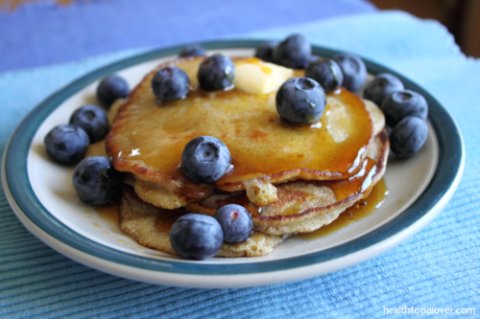 Caramel Buckwheat Pancakes
Ingredients:
3 parts buckwheat groats, freshly ground into flour or use buckwheat flour from the store
1 part mesquite powder
water
1 tsp. rye flour (optional; not for gluten-free versions)
2 whole eggs
butter or coconut oil, to cook with and a bit extra to serve
fresh fruit to serve
maple syrup (optional)
How to:
The night before: Grind buckwheat and add to a bowl along with the mesquite powder and rye flour if using. Add water and mix to make an almost batter-like thicknesss. Leave on a counter with a plate covering the bowl overnight to slightly ferment.
In the morning (or when ready to cook), beat the eggs and then mix into the buckwheat-mesquite mixture to form a smooth batter.
In a hot pan add butter and pour a nice circle of the mixture into the pan. Cook until the mixture bubbles and each side is browned.
Serve with butter, maple syrup and fresh fruit.
For more healthy recipes check out the recipe index.
© Copyright: Michelle Robson