Hey guys! Here is another giveaway for you!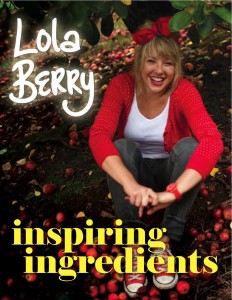 This time from the lovely Lola Berry, plus we have a Q&A with Lola as well! 
Who is Lola Berry?
Lola Berry is a passionate, energetic and enthusiastic Aussie Nutritionist. She aims to inspire the world to view health differently and is a regular guest on Australian day time tv.
Lola has recently launched her new book Inspiring Ingredients and thanks to LolaBerry.com they are giving my readers a chance to win a copy!
Lola Berry's new book Inspiring Ingredients is more than just a recipe book. It contains heaps of tips and tricks to help you live a healthy and happy life.  Though talking of food, there are quite a few recipes (more than 30) in the book and all are whole food, nutrient dense and are very delicious recipes! My favourite recipe in Lola's book has to be the Raw Fudge Balls, which is also listed on Lola's website. Though it's hard to say just one favourite recipe. Inspiring Ingredients is definitely health food lover approved!
Wanna know more about Lola? Have a read of the Q&A below:
Health Food Lover (HFL): For new readers, what can they expect from your new book, Inspiring Ingredients?
Lola Berry (LB): This book is all about inspiring people to live a healthier life and to love what they eat. Nutrition and health can be boring so I am to make it as interesting and fun as possible! Expect to find in the book energy boosters, weight loss tips, stress and sleep info plus over 30 recipes. It's all about putting the 'heart' back into what you eat!
HFL: How do keep your diet "yummo" but still healthy?
LB: Mix it up, try friends recipes and discover new tastes. Try to find produce at local farmers markets and chatting to the farmers to get their secret recipes!  80/20:  80% of the time eat nutrient dense food, 20% of the time treat yourself!!
HFL: How do you make time to include healthy food in your lifestyle?
LB: Preparation is a big player when it comes to eating well… shop up beforehand to save you getting things on the go. Not only is this cheaper but will make you eat more nutrient dense foods. Check out the LolaBerry.com website for updated recipes!
HFL: Who do you look to for food and health inspiration?
LB: Stephanie Alexander, Jamie Oliver, my parents, farmers at local markets and my mates – nothing excites me more than getting a hold of a food or meal I've never tried before!!
HFL:What are your "favo" recipes from your book?
LB: Quinoa Salad and the Banana Buckwheat Pancakes… but it changes every month!
Thanks Lola!
Lola also has a webseries which has lots of healthy tips and tricks to get you started on a healthier lifestyle which you can view on her video page.
– – – – – –
Giveaway Closed.
So how to win a copy of Lola's Book? Answer the question below:
"Who or what inspires you to live a healthier lifestyle?"
For more chances to win:
Follow Lola Berry on twitter (@yummololaberry) and tweet about the giveaway including the url: http://wp.me/pUqsc-19v (2 extra entries)
Add Lola Berry to facebook (facebook.com/lolaberry) (2 extra entrys)
Add health food lover to facebook (facebook.com/healthfoodlovers) (1 entry)
Follow health food lover on twitter (@loverhealthfood) and tweet the about the giveaway including the url: @loverhealthfood  http://wp.me/pUqsc-19v (1 entry)
Subscribe to health food lover by RSS or get blog updates by email. (1 entry)
Email to three friends (3 entry)
Mention in a blog post (3 entries)
Please leave a comment per each entry to let me know how you entered the giveaway. Thanks!
So there are a possible 7 ways to enter.
You have one week to enter, good luck everyone!
Giveaway Closed.