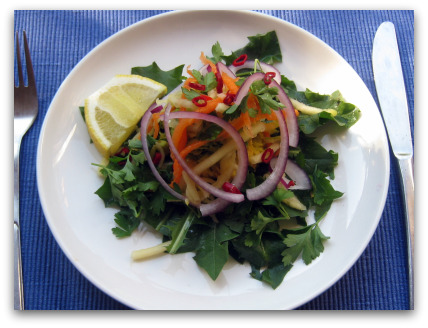 After going to a wild edible weed walk and lecture by Sergei Boutenko, I decided I'd try out a few recipes using wild edible weeds. This a salad I made with dandelion leaves from my backyard. Go "wild" (sorry couldn't resist) & have fun!
Wild Edible Weed Dandelion Salad

Ingredients:

a handful of dandelion leaves, washed and pat dry
1/2 avocado, chopped
1/4 red onion, sliced thinly
1/4 parsnip, sliced thinly in strands
1/4 carrot, sliced thinly in strands
1/4 chili, sliced thinly (optional)
to serve: olive oil and lemon juice

How to:

In a bowl mix together your dandelion leaves, avocado, red onion, parsnip, carrot, chili, pour over your olive oil and lemon juice. Enjoy!
This was post was shared at 'Make It Yourself Monday' hosted by Eat From Your Pantry, at Slightly Indulgent Tuesday hosted by Amy from Simply Sugar and Gluten Free and at Kelly's Real Food Wednesday and Melodie's Vegetarian Foodie Fridays, Food on Fridays.