Hello Everyone!
Blogger Cricket (from Cricket's Daily Fix), so sweetly gave me a 'Versatile Blogger Award'!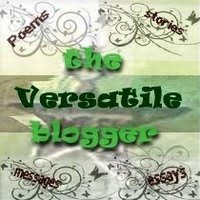 As part of accepting this award, I have to follow these Award Rules (as do those who I pass on the award to (if you like to, of course)):
Thank the person who gave you this bloggy award.
Share 7 things about yourself.
Pass this on to 15 bloggers that you just recently met and think are fantastic.
Contact those bloggers & let them know about the award.
Okay so 7 things about me..
I LOVE live music & going to concerts- always fun!
I'm an Aussie, but I also have relatives from Italy, Ireland, the UK and South Africa (I like to think I'm very Multi-Cultural!).
My favourite foods: Mango, Raspberries and probably Chili, Garlic & Coriander!
I study Nutrition (AND love it).
Yoga is my favourite form of exercise (unless it's summer than it's swimming)!
Coconut Palm Sugar & Homemade Bounty Bars <- Are my current healthy obsessions! (Maybe I have a bit of a sweet tooth)
I have slippers that look like they should belong to pixies (strange, no?)
15 Bloggers (Please Pass This On):
Congrats Everyone! I hope you accept and enjoy this!