Hi Everyone. This week I'm so pleased to present a guest post from Canadian blogger and dietitian-to-be Stephanie from Juicy Fresh Bites. I hope you enjoy this recipe as much as I did! If you would like to do a guest post please read the guest post guidelines.
Michelle.
_ _ _ _ _ _ _ _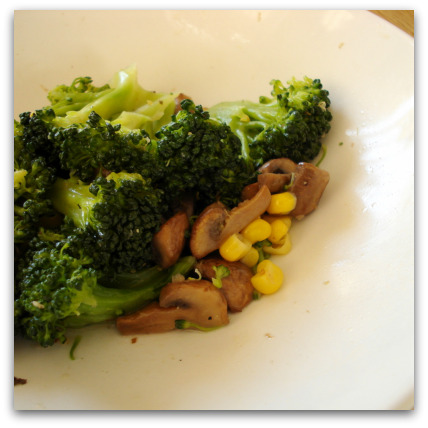 Easy Lemony Marinated Mushrooms
First of all, I will like to express how excited I am to be writing a guest post for Michelle. I am very honoured to have this opportunity. Thank you so much, Michelle!
So, hello everyone! This is Stephanie from Juicy Fresh Bites. I love blogging about my culinary experiments as I try to cook delicious and healthy food. In addition, I also enjoy sharing my own tips on how to better embrace a healthy, active lifestyle.
+~+~+~+~+~+~+~
Today I'll like to share a super simple, yet amazingly delicious and versatile mushroom recipe with you. I always make a large batch during the weekend, and let the flavours mingle and develop overnight and have these mushrooms all through the weekday when I'm busy studying and don't have much time to cook from scratch.
The herbs and lemon zest give these mushrooms a very refreshing taste, and the lemon juice adds just the right amount of tanginess and really brightens up the flavours.
Easy Lemony Marinated Mushrooms

Ingredients:

1 lb (45g) button mushrooms, rinsed and quartered
1 lemon, zest and juice
3 cloves garlic, minced (I love garlic so I use lots, but you may want to tone it down based on your preferences)
3 tablespoons olive oil
2 teaspoon dried basil
2 teaspoon dried oregano
1 dried bay leave
Salt and pepper, to taste

Directions:

In a large skillet, preheat 1 tablespoon olive oil on medium heat. Add in mushrooms, saut̩ until they soften and start to release their juices, about 2 Р3 minutes. They are ready when they have shrunk in size and have turned into a darker colour.
Remove skillet from heat source. Add in the remaining ingredients and stir well to incorporate.
Transfer the mushrooms to a large container and let them cool to room temperature before storing away in the fridge. Let the mushrooms marinate for 8 hours or overnight for best flavours.
Before serving, take the mushrooms out and let them come to room temperature (or simply microwave the mushrooms for 10sec to warm them up before serving). Enjoy!

This recipe takes minimal time and effort to make, and it will last for a whole week in the fridge. So, make a big batch now and you can enjoy these delicious mushrooms as a side dish or even as a easy snack on the busy weekdays! I love sprinkling them onto my salads, and sometimes I just stir them into steamed vegetables to jazz up the dish and transform plain steamed veggies into something much more flavourful!
What makes mushrooms so great? They are loaded with powerful phytochemicals. Phytochemicals are powerful detoxifers for your body, they capture free radicals so they do not cause cell damage and also help get rid of toxins from your body. In addition, mushrooms are also a very good source of different nutrients, such as selenium, and the B vitamins. Selenium is essential for the proper functioning of the antioxidant system, and the B vitamins play key roles in our energy metabolism and support the adrenal glands to prevent fatigue when we feel stressed. (Source: WHFoods: Mushrooms)
I just love mushrooms and this recipe is just my current obsession! For more yummy and healthy recipes for mushrooms, check out these recipes on my blog: Mushrooms with Sesame-Soy Glaze and Simple Roasted Portabella and Crimini Mushrooms.
____
Thanks Stephanie for such a wonderful recipe! Of course I had to try Steph's recipe for myself- I used shiitake mushrooms (instead of button) and lime (instead of lemon) + herbs. Still really delicious! Enjoy Everyone!