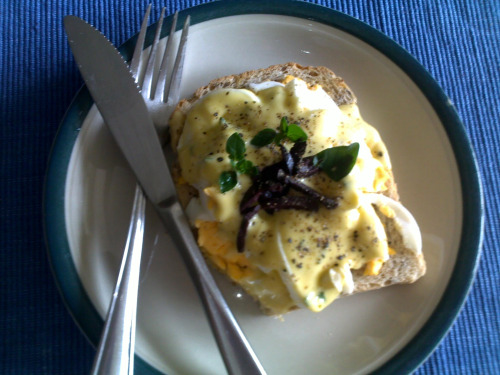 Boiled Eggs, Olives and Zesty Lime & Herb Mayo on Toast

I have to admit it may not look the prettiest but this recipe is absolutely delish! The Zesty Lime & Herb Mayo is really what makes it so great. It is filling enough for lunch or dinner or have  half the amt stated (one piece of toast) and serve with a light salad. This dish is full of healthy fats (from the olive oil & flax) and lecithin (a phospholipid, also a fat from the eggs) and the lime juice is alkalizing and gives the mayo a great fresh and tangy flavour. I've used fresh thyme and oregano- but try other herbs that you like, basil would be another great flavour to try adding.

Ingredients:

2 eggs (per person), hard-boiled then sliced

3 kalamata olives, (per person) pitted and sliced thinly

1 tablespoon zesty lime & herb mayo

1 teaspoon fresh thyme leaves

1 teaspoon organic unsalted butter, to spread on toast

2 pieces of wholegrain or sprouted spelt toast (per person)

How to:

Make the mayo (see recipe below) and set aside. Hard boil the eggs in cold water for 5 minutes. Take out and place immediately in iced water. Leave till cooled in the water. Peel the eggs and slice. Spread the bread with butter. Place the eggs and mayo on the bread, then top with the olives and thyme. Season with salt and pepper and serve.

Zesty Lime & Herb Mayo

1 egg yolk (seperate the egg: keep the egg yolk and discard the egg white*)
1/2 teaspoon himalayan sea salt, ground
2 teaspoon lime juice
1 tablespoon apple cider vinegar, unpasturized
1/2 cup cold pressed olive oil
1/2 cup cold pressed flaxseed oil
1 tablespoon of fresh thyme leaves
1 tablespoon of fresh oregano leaves, sliced thinly
1/2 lime juiced, extra
4 black peppercorns, ground, to season
sea salt, to season

How to make Zesty Lime & Herb Mayo:

Add the lime and apple cider vinegar (acv) together in a small container.
In seperate glass bowl beat the egg yolks with the salt. Add half of the lime-acv mix to the yolk and continue beating.
The important part: Now slowly add the oil a drop at a time and whisk in. You want to add the oil in as slowly as you can so the mayo develops a good emulsion.
Once you have whisked in half the oils the mayo should start to go a lighter colour and become thicker and creamy.
Keep whisking and add the rest of the lime-acv (this will make the mayo go an even lighter colour).
Then continue whisking the oil one drop at a time in a slow stream until it is all mixed in and the mayo is still thick and a light colour.
When the mayo is thick and all the oil is emulsifed into the egg yolk, add the herbs and mix in the extra lime juice. Taste and season with salt and pepper. Add more lime juice if it is not 'limey' enough but not too much- you need to keep the emulsion of the mayo.
Put in a glass jar and refigerate for up to a week.
Optional: Put in a glass jar and leave for 4-8 hours on the counter. This is said to help reduce the risk of salmonella because of the acid (from the lime and apple cider vinegar) which helps to make it an enviroment acidic enough to help kill the bacteria.
Notes:
Raw egg may not be suitable for those with compromised immune systems, those whom are pregnant or young children, so practice good judgement when making this for anyone.
*You don't have to throw the egg whites out, you can put them in a freezer tray and freeze them for later use.
Enjoy,