Recipe: Baked Tomato & Basil Frittata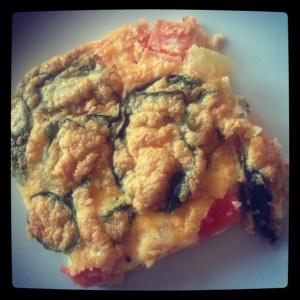 Ingredients:
ghee or coconut oil (and extra to grease tray)
1 onion, peeled and chopped roughly
2 cloves of garlic, crushed
10 eggs
3 tbsp. water
3 fresh tomatoes, chopped roughly
1 bunch of basil leaves
salt and pepper to taste
How to:
Pre-heat oven to 160 degrees. In a pan add the ghee or coconut oil and cook chopped onion until soft.  Stir in crushed garlic, chopped tomatoes, and salt and pepper and cook for a few minutes until tomatoes are soft. Then beat the eggs and water until you have a smooth consistency. Pour the eggs and cooked tomato + onion combo and the fresh basil  into a greased pan (I used a pyrex container one which was 35cm (length) by 24cm (width) by 7cm (height)). Stir in the fresh basil. Bake for about 30-40 minutes OR until cooked through (it shouldn't wobble at all once cooked).