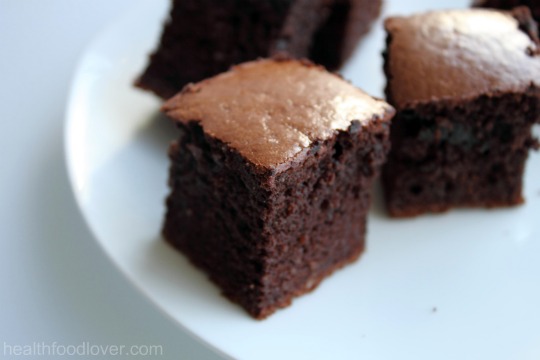 Want something a little bit special but can't eat gluten or dairy? Want a dessert that's decadent but still healthy? Then you will love this recipe for Mocha Brownie Cake with Caramel Date Sauce! This dessert was made in mind for those who are intolerant to dairy and gluten, but still want something delicious and a great treat.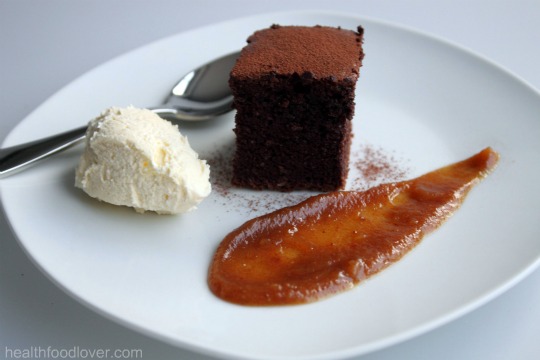 Recipe details: The reason this recipe is healthier is because of the ingredients I used. A few of the ways this recipe makes for a healthier brownie cake:
Instead of refined white flour I used almond flour (almond meal)
Cashew butter instead of butter made from dairy milk
Maple syrup instead of refined white sugar
Dairy free (there is no dairy in this recipe at all)
Gluten free (almond meal is gluten free)
Mocha Brownie Cake with Caramel Date Sauce

Mocha Brownie Cake- Ingredients:

1/2 C. fine almond meal
1/2 tsp. bicarbonate of soda
1 tsp. baking powder
1/2 tsp. sea salt
1/2 C. cashew butter
3 Tb. coffee espresso (or carob powder mixed with water in equal quantities, instead)
4 Tb. cacao powder (or carob powder)
1/2 C. maple syrup
1 tsp. vanilla extract
2 egg yolks, beaten
2 egg whites
coconut oil (or butter) for greasing

How to:

Set your oven to 180 degrees celsius (I used fan-forced).

First make the flour

: Mix together the almond meal, bicarbonate of soda, baking powder and sea salt and put this aside.

Then mix together using egg beaters

: cashew butter, coffee espresso, cacao powder, maple syrup and vanilla extract until you have a smooth and thick mixture. Beat the egg yolks and then mix them into the cashew-coffee mixture.
Fold the almond meal into the previous mixture.
In a new clean dry bowl, beat the egg whites with a whisk or egg beaters until stiff peaks form. Fold the egg whites into the cashew-coffee-egg yolk-almond mixture until all incorporated.
Line a cake tin with greaseproof paper or aluminium foil and grease with coconut oil or butter. Pour the brownie cake mixture into the lined tin and bake for 15-20 minutes at 180 degrees C or until a skewer (or toothpick) comes out clean.
Leave to cool down completely.
Make the caramel date sauce (below).

Caramel Date Sauce- Ingredients

~7 dates, pitted
water, enough to make a thick sauce-like consistency

How to:

Optional: If you like you can soak the dates in about 1/2 C. to a C of water before hand to soften the dates.
Add the dates and water to a blender or food proccessor. Process until you have a smooth and thick caramel date sauce. You may need to add more water if it's too thick.

Once the brownie cake is cooled, cut it up into squares and then serve with the caramel date sauce and cream (optional). Enjoy!
– – – –
© Copyright: 2011 Michelle Robson-Garth. Please ask permission first when using any text or images on healthfoodlover.com . See the disclaimer here.