Over the weekend I went to the Slow Food Melbourne Farmer's Market where I attended Cook, Here and Now, a great cooking event which empahsies the importance of small-farms, organic, local food and knowing your farmers. Though this post isn't about Cook, Here and Now, but I'll post about that soon!
At the SFM Farmer's market I picked up a bunch of Amaranth greens, a type of green veggie I hadn't yet tried, so of course I had to try it! So here's a recipe I came up with: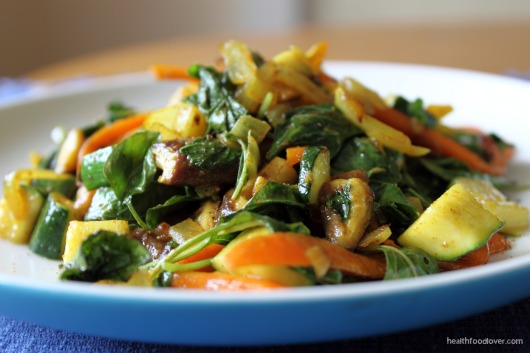 Curried Amaranth Greens and Veggies

It seems that almost any green tastes great wilted with a bit of butter. Amaranth is quite bitter, but after cooking them like this I'll definitely add these amaranth greens to my list of great tasting greens!

Ingredients:

butter
1 onion, chopped
a few shiitake mushrooms, sliced
2 carrot, halved and sliced
1 or 2 garlic cloves, peeled and chopped
a pinch of salt
turmeric powder
cayenne pepper
2Â zucchinis, cubed
butter, extra
a bunch of Amaranth leaves, (stems removed), washed and blanched

Method:

Heat butter, salt and cook onion, mushrooms, and garlic till soft. Add the carrots, turmeric and cayenne and cook till carrots are soft, but still a bit crunchy.
Wash the amaranths and remove the stems. Blanch the amaranth in hot water till bright green.
Add the zucchini and extra butter if needed, and then add the amaranth leaves. Cook till the zucchini is soft and the blanched amaranth leaves have wilted.

Enjoy with a pinch more of cayenne, salt and pepper if you desire.
Notes:
I left the spices and butter without a measurement so you can adapt those to your liking. I find less is always more when it comes to spices, but use what you like.
You could try adding soy sauce (or tamari), ginger and sesame seeds to this recipe.
This would be great with beef, chicken or fish.
I hope you enjoy this recipe.
For more healthy recipes check out the recipe index.
Linked to Vegetarian Foodie Fridays

© Copyright: 2011 Michelle Robson-Garth. Please ask permission first when using any text or images on healthfoodlover.com . See the disclaimer here.