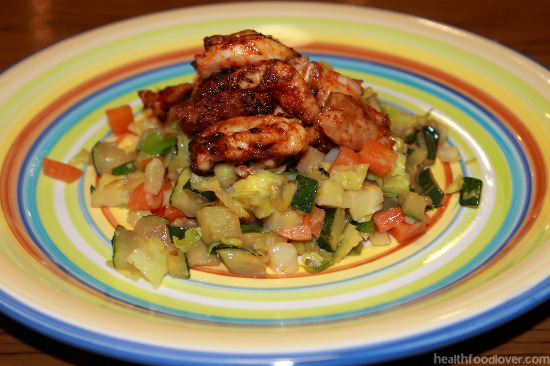 This was a really simple meal, yet one that was really delicious and quite tasty. Both the process of cooking the chicken and veggies were as simple-as-can-be. You know,  it seems most things that could be classified as simple are generally the best of things in life. Don't you agree?
Here are some quotes on simplicity:
"Simplicity is the ultimate sophistication."
"Everything should be made as simple as possible, but not simpler".
"In character, in manner, in style, in all things, the supreme excellence is simplicity."
"Simplicity is the nature of great souls."
(Sure, these quotes aren't really related to food specifically, but you get the point).
So are you ready for simplicity?
– – –

Paprika Chicken
Ingredients:
chicken breast, cut into strips
paprika
salt & pepper
butter or coconut oil
How to:
Cover the chicken in paprika (shake the rest off) and then cook in a fry pan in oil till the chicken is cooked through.  Season with salt and pepper. Set cooked chicken aside with a tea towel over it to keep warm, until time to serve.
Butter & Garlic Veggies
Ingredients:
vegetables of your choice: I used carrot, zucchini and brussel sprouts.
butter
garlic, chopped
salt and pepper
How to:
Chop your vegetables up into cubes. Saute with butter, garlic, salt and pepper till soft.
Enjoy!
Copyright secured by Digiprove © 2010 Michelle Robson