Welcome To Wholesome Whole Foods
Wow we're up to the 6th edition of Wholesome Whole Foods already! Thanks everyone who has been joining in every week! It's been great seeing you all here and reading all your healthy posts.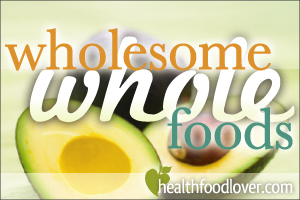 This week I have a brand new blog carnival button and (also a new blog design to) for the carnival so you can keep using the old one or use the new one instead (up to you). I also have two smaller ones below. 



What is Wholesome Whole Foods all about?
Wholesome Whole Foods is a blog carnival where you can share your wholesome, healthy, real food posts.They don't have to be recipes, they just have to be to do with real food and healthy living.
What if I can enter my link today?
Don't worry if you can't enter your link today the linky will be left open for a few extra days!
Things to remember…
Make sure you link back to this weeks edition of the carnival (not my home page) so everyone can find everyone all the great posts in the carnival. Unfortunately unlinked posts can't be counted in the carnival.
I will be tweeting every body's post…so feel free to do the same if you see some post you would like to share with your followers.
Also please comment below to let everyone know all about your post!
Health Food Lover now has a Facebook!
I now have a Facebook page! So if you're on Facebook, I'd love to connect with you there as well!
Last Weeks Wholesome Highlights:
There were some great posts last week…these are my Wholesome Highlights.
Kelly posted a great post with 10 Natural Foods that were under attack by Science Base. Her post is a very detailed response on to the Science Base article.
Alex posted a really delicious recipe for sourdough pancakes from Bittman's  How To Cook Everything. Check out her great photo- looks so delicious!
Not so keen on sweet potatoes? I think you'll change your mind after you try Bumble and Light's Sweet Potato Fries!
Aubree Cherie has a great Tropical Nut Burger recipe (which just happen to be vegan) which sound like a great idea for all of you now in summer (or for those of you who want something really tasty).
My Submission For This Week
This week my submission for the carnival is a simple and quick recipe:
Avocado, Tomato and Goats Cheese with Pumpkin Seeds on Rye & Linseed Bread.
I hope you all enjoy this week's carnival!
Michelle.