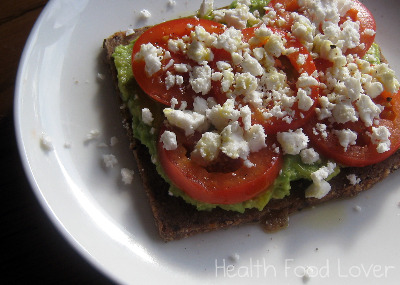 I love snacks that take seconds to make and are tasty and good for you too! This snack fits all of those criteria.  I've left quantities up to you so you  as this could be made into a snack or into more filling lunch.
Avocado, Tomato and Goats Cheese with Pumpkin Seeds on Rye & Linseed Bread Ingredients:
1 or 2 slices of rye and linseed bread
1/2 or 1 whole avocado, mashed
1/2 or 1 whole lemon, juiced
1/2 or 1 t. cumin powder
1 or 2 tomatoes, sliced thinly
goats feta cheese, crumbled*
1 or 2 T. good quality olive oil
green pumpkin seeds (as many as you like) (these aren't pictured)
salt and pepper
How to:
Simply mix the avo, lemon juice and cumin together- spread that on the toast, add tomatoes, cheese, pumpkin seeds-Â  the drizzle with olive oil and a sprinkle of salt and pepper.
*I used the Traditional Goats Feta from Meredith Dairy. What's even nicer than that one is the Goats Cheese In Extra Virgin Oil. That is probably the best cheese I've ever eaten! Anyway I felt I had to let you all know about it!
I hope you enjoy this quick and easy snack.
Michelle.
Submitted to Fight Back Friday July 2nd.