About 'Wholesome Whole Foods' Carnival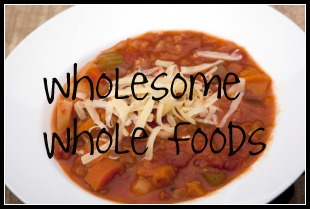 Wholesome Whole Foods carnival is a chance for you to share your recipes and  ideas on how to eat healthily using whole foods. This leaves many options for what you can share! You can share blog posts about  nutritious recipes, frugal food, or anything you want really about eating and cooking healthily! So there is plenty to choose from! This  carnival is also a way to highlight that we all  can eat well for less (and save money)! If  you don't have a blog you can instead  submit a recipe or your ideas in the  comments below.
About this Blog Carnival: Wholesome Whole Foods
What is a Blog Carnival?
A blog carnival is a way for us to all colaborate on a topic. It can help us to discover other people's blogs and ideas and we can all learn from each other.
How do I submit a post?
When the blog carnival begins you will see a Linky box like the one below from Cheeseslave's Carnival Real Food Wednesdays. All you need to do is enter your name or blog name and name of your post to be submitted in the 'Your name' box and the url of your post (not your home url) into the url box and press enter! Your post will be automatically added to the list.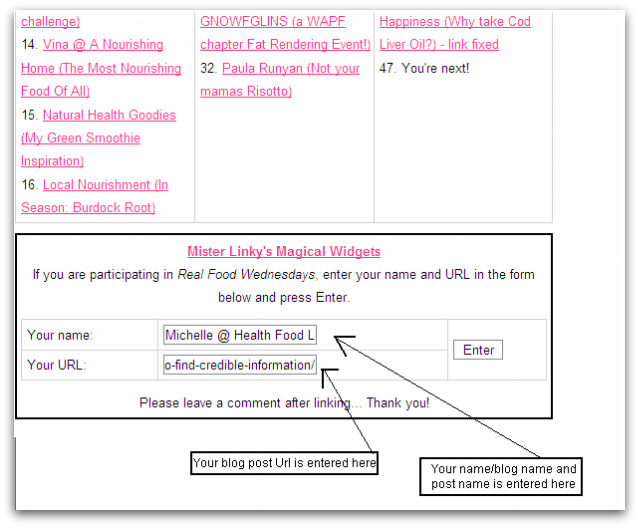 (Click to view larger)
How will this blog carnival work?
Every week on a friday, starting in THIS FRIDAY (May 28), I will post the blog carnival and all you have to do is submit your post as above. I will also highlight my favourite links from the past week in a carnival roundup. Check back to see if you have been featured in the roundup!
The first edition of 'Wholesome Whole Foods" will start THIS FRIDAY (May 28th).
The meals and snacks must be nutritious and contain nutritionally dense ingredients (though what may be nutritious to one may not be to another- so you really can share many types of food).
Please link back to show each weeks post via html links or by using the blog carnival badges (below).
Blog Badges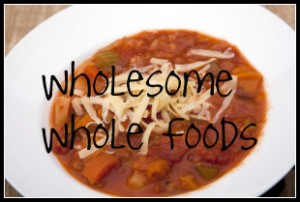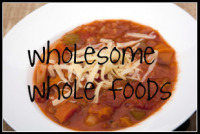 You can save these and download them to put in your blog post and link back to each weeks edition of 'Wholesome Whole Foods'.
I hope you join in the fun on friday!