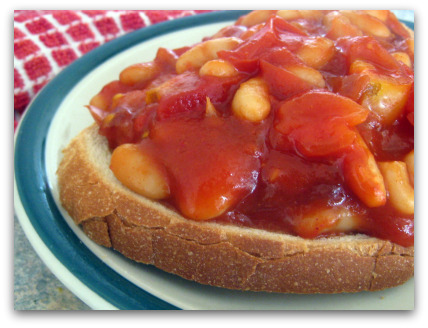 This is my favourite way to make baked beans for breakfast! It's great as a breakfast, for lunch or as a easy quick nutritious dinner. Yum!
The Best Baked Beans
Ingredients:
1 can cannellini or butter beans, soak over night with a strip of Kombu.
1 can chopped tomatoes
1 punnet cherry tomatoes, cut into quarters
1 T. tomato paste
1 red onion, chopped
1 T. malt vinegar
1 T. paprika
½ t. turmeric powder
to serve: salt, pepper and chopped fresh parsley
How to make The Best Bake Beans:
Soak your beans with plenty of water overnight with a piece of kombu. In the morning drain out the water and discard the kombu.
To make your sauce in a sauce pan combine all ingredients except beans (and salt, pepper & parsley) and simmer for 15 minutes or until the sauce becomes thickened (not watery).
Now stir your sauce into your beans. Pour the mixture into a crock pot (or shallow cake tin as I used) and bake at around 180 degrees F for around 20-30 minutes or until the beans are soft and the sauce has thickened up a bit more.
Serve your beans on a piece of sourdough bread with butter and then top the beans with salt, pepper and parsley.
Notes: you can prepare the sauce the night before so after you've drained the beans all you need to do is combine the beans and sauce and bake.
How do you make your baked beans? Any bean baking tips? Like this recipe? I want to know what you think- share your thoughts in the comment section below!