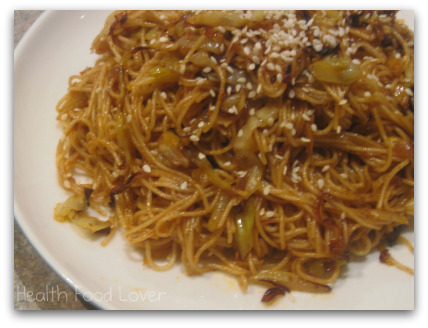 This is in tribute to blogger Heather from Crystalline Green. Heather got her recipe from Alicia Silverstone's book 'The Kind Diet' and adapted it.  Now I've adapted my recipe from Heather's. As Heather said in her original post this recipe is pretty delicious and relatively quick to cook! It has enough flavour to rival many a take away shop!
About Soba Noodles:

Soba noodles are Japanese noodles that usually contain buckwheat. Soba noodles are usually made of the gluten-free pseudo-cereal, Buckwheat (Soba

). B

ecause of the nature of Buckwheat, being gluten-free, it can sometimes have wheat added to it to help it combine in which case they would not be suitable for someone with a gluten intolerance or sensitivity. Though wheat is not always added to soba noodles. Just make sure you check your labels. Soba noodles thankfully cook quite quickly (usually under 10 minutes). The noodles I used are Omen noodles which are quite a thin noodle and probably not really considered a soba noodle as they don't contain buckwheat.
Sesame & Cabbage Soba Noodle Stir Fry

Ingredients:

1/2 red onion, finely sliced
olive oil
1/2 cabbage, finely shredded
1 clove of garlic, squashed and chopped
1 1/2 t. paprika powder
1/2 t. Â chili powder
1 packet (90g) soba omen noodles
1-3 T. tamari (wheat- free soy sauce)
1 t. maple syrup (optional)
1 t. sesame oil
1 T. sesame seeds

Directions:

In a wok or frying pan, fry the onion in the olive oil on medium heat till translucent. Add the cabbage, a bit more oil and turn down to low and cover with a lid. Cook for 15 minutes or until the cabbage is very soft.
In the last 3 minutes of the cabbage and onion cooking, cook the soba noodles in unsalted boiling water for around 2 minutes or until cooked.
Continue cooking the cabbage mixture on low heat and add the garlic, paprika and chili powder and cook for a further 2 minutes.
Drain and rinse the noodles with cold water and add to the cabbage mixture. Stir all the remaining ingredients to combine and cook for two more minutes.
Serve and enjoy!

Note:Â I didn't add any salt as tamari contains quite a bit of salt in it.

Variations:

Add cooked chicken.
Add cooked tempeh or tofu (Like Heather did).
Add some sliced chili.
Add some chopped coriander leaves.