These points have been developed from being inspired by my experiences being an Aunty & being a babysitter. I also am influenced by Karen's book (read more about her book below) and from my current studies in Naturopathy. The points are spread out between age groups; some may be suitable for younger children and other points for elder kids. I haven't specified ages- what foods would be suitable for one child may be unsuitable for another.
Some of these food ideas are also great for teens and adults alike so don't be afraid to try them! Hope you enjoy them and feel free to add your own in the comments section (and please enter the GIVEAWAY below!).
These are a whole lot of ideas (30+) for healthy snacks and nutritious meals for kids. The aim of the game is to stick with whole foods (or buy natural/organic products without any artificial anythings) and serve lots of bright foods that look appetizing, colourful and fun!
The list is organized into three sections: For the Warmer Months, For the Cooler Months, Anytime Foods and, Foods for Special Occasions.
For the Warmer Months
Frozen berries- raspberries and strawberries are great- they look just like lollies, are colourful and are moderately sweet.
Frozen red and green grapes.
Homemade ice creams such as Avocado Chocolate Ice Cream (but use carob powder instead- it isn't stimulating like cacao/cocoa powder is).
Frozen Icy Poles/Yoghurt: made with yoghurt (or coconut cream/coconut kefir), blended with fruit and the frozen (and depending on how sweet the fruit is a bit of honey).
Add a small amount of some warming foods and spices to your and their food and drinks like fresh Ginger to help you and them sweat and cool down naturally.
Cooling vegetables such as cucumber and celery.
Fresh and seasonal fruit.
Fermented veggies!
For The Cooler Months
Soup- Try different varieties such as carrot, pumpkin & lentil or leek & potato.
Stews, casseroles and chili con carne.
Warm (not hot) rooibos tea.
Homemade custards (made with real milk, organic free-range eggs, honey or real maple syrup vanilla extract/bean) and served with fresh, stewed or steamed fruit.
Soaked/fermented/sprouted grain porridges (Try oat, quinoa and amaranth).
Sauteed Veggies and brown rice.
Grain dishes.
Steamed fish and vegetables.
Bone broths:
Anytime:
Cut up slices of vegetables and dips.
Fresh, seasonal fruit.
Soft brown rice crackers/biscuits (to have with dips).
Homemade or natural dips (free of artificial anything).
Use dips alone for veggies or use them as nutritious sandwich spreads.
Cooked organic chicken pieces.
Freshly made and diluted juices at room temperature.
Yogurt, honey and cinnamon. If your child does not like dairy yoghurt perhaps try goats or sheep yoghurt. Or even perhaps try coconut kefir.
Yoghurt and fresh fruit.
Cooked fish and vegetable patties.
Homemade nut/seed butters (made with soaked nuts/seeds) – Such as almond butter or tahini).
Cut up slices of fresh fruit.
Fruit sauces (to pour over ice creams, fruit or with custard etc).
Eggs and Soldiers: soft boiled eggs cut open with pieces of sourdough toast/or veggie sticks (If you can stick to organic free-range eggs and bread made with whole grains, rather conventional eggs and white bread).
Ants on a log: cut up celery/sliced carrots sticks spread with natural nut and seed butters and oil-free sultanas.
Soaked beans to munch on with pieces of veggies and dips (as above).
Hard-boiled and halved or quartered eggs as snacks.
Low (or no) sugar jams with small cut up slices of Essene Bread.
Baked goods: made with easier to digest grains (rather than wheat or soy): such as buckwheat, spelt, quinoa and amaranth and whole food sweeteners such as rapadura or maple syrup (for sweet baked goods).
Sweet potato cube chips: sweet potatoes washed and cut into small cubes then blanched, covered with a little bit of coconut or olive oil, turmeric and baked until soft and a little bit crispy.
Breakfasts: soaked porridges (made with such grain flakes as oats, quinoa or amaranth), scrambled eggs, french toast made with essene bread, fruit salad topped with a nut or seed butter.
Fresh or tinned fish.
Cubes of feta cheese are great little snacks.
Fermented relish, with feta cheese and soft crackers such as buckwheat crackers.
Blended bright fruit smoothies- or for the adventurous child try a green smoothie made with 1 type of fruit, 1 type of green leafy (such as spinach) and water.
Fresh nuts and seeds (depending on age of child).
For Special Occasions:
Chocolate/carob Puddings made with avocado, cocoa/carob powder and honey.
Fruit puddings made with fresh fruit, coconut meat and water -blended together.
Berry Sauces: (made using berries, rapadura/maple syrup and agar/kudzu (to thicken). Just boil these ingredients, mix. then cool and serve over desserts or with yoghurt.
Cakes and biscuits made with whole grains, natural sweeteners and real flavourings (vanilla extract (not vanilla essence) etc).
Giveaway Now Finished
A book I highly recommend on Children's nutritional health is Don't Tell Them It's Healthy™ by Australian Nutritionist Karen Fischer. Karen's book helps parents to encourage their children and teens to eat healthier by providing strategies to market food to them like a business would! Her approach helps kids to learn why and how they will benefit from eating food that is good for them. She also provides ways to explain why they will want to eat certain foods rather than just being told they have to eat it or giving the common answer that it's just healthy and they need to eat those foods.
This month you will get a chance to win a copy of Karen's book, Don't Tell Them It's Healthy'! For more information on the book (where you can also purchase it)Â have a look at this page on Karen's Website.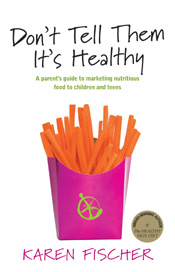 All you have to do is answer one of these in the comments section (you have 3 choices):
How do you get your children to eat healthier foods?
Or what are great nourishing snacks you provide for your children?
Or what were some healthy snacks you enjoyed as a child or healthier versions of those snacks you loved?
For extra chances to win:
Subscribe to Health Food Lover by Email (This signs you up to get my Feed sent straight to your email).
Tweet about this giveaway and follow me on twitter
Post this giveaway to facebook.
Blog about this giveaway and link back to this post.
Rules:
Open to Australian-wide only.
You have from today (10th of May) until the end of May to enter.
The winner will be chosen via random.org.
With every way you entered please leave a comment for each entry to let me know you entered that way.
There you go! Those are the ways to get a chance to win! With every way you enter please write a comment for it to be counted!
Good luck!
Want some time saving tips for healthier cooking? How to be time savvy for your health (or healthy meals to prepare in advance).
[Disclaimer- Please note I am not trying to diagnose, treat or provide any medical or nutritional advice. If you are unsure if any of the foods mentioned are right for you or your child please see your health care professional].