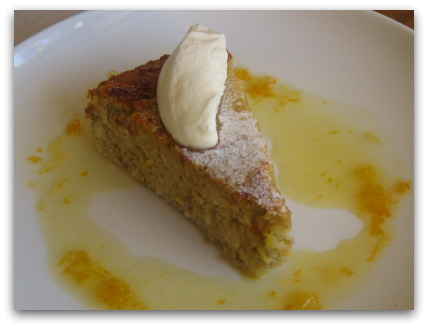 This cake is gluten free and dairy (butter & milk free) free, but you would never know, it tastes that good! It is also refined sugar free! The pureed pears gives this cake a lovely moist & buttery texture (but without the butter!). Perfect for afternoon tea!
Almond, Honey and Pear Cake with Orange & Honey Syrup (Dairy Free, Gluten Free)

Ingredients:

1.5 C. almonds, whole
2 pears, quartered and steamed
2 eggs, separated
1 t. orange zest
1 T. coconut oil
2 T. honey
¼ t. bicarbonate soda

How to make Almond, Honey & Pear Cake:

Bring water to a boil in a saucepan. When boiling place almonds in the saucepan for around 3-5 minutes. As the almonds are blanching, place a colander over the pot and place your pears in the colander and cover it with a lid- this is so the pears will steam and soften. You will know when the pears are steamed when you can place a knife through the pear with ease. After that time skin the almonds and then grind them in a food processor to a fine flour. Place your ground almonds into a bowl.
Then using the same food processor that you blended the almonds in, puree the pears till they are homogenized and smooth. Beat your egg yolks, orange zest and coconut oil into the pear puree.
Pour the pear puree and egg yolk mix into the ground almonds and stir to combine.
In a separate bowl beat your egg whites with the bicarbonate until soft peaks. Stir in the honey.
Now fold in your egg white mix into the almonds.
Bake in a coconut oil greased and lined round tin. Cook at 160 Celsius for around 30-40 minutes or until a knife comes out clean.
Leave to cool for 20 minutes and firm up in the tin, before turning it out and putting it on a plate right side up.
Serve with orange and honey syrup (below) and powdered rapdaura sugar (see directions below).

Orange & Honey Syrup

1/2 orange, juiced & zested
2 T. Â honey
1 t. coconut oil

To make the orange and honey syrup- place the orange juice & zest, honey and coconut oil in a saucepan on low heat. Reduced until it is thick and syrupy.

Powdered Sugar

How to make Powdered Sugar:

This is so easy to make, more nutritious than white sugar- but tastes just as good and looks a lot like icing sugar! All you have to do is grind rapadura sugar in a blender or coffee grinder until it really fine and looks white! Easy! Now in a sieve  sprinkle this over your cake.

Serve the cake with the powered sugar, orange and honey syrup and cream (optional).
Nutrition References:
What do you think of this recipe?