Welcome To Wholesome Whole Foods
Happy Friday Everyone and Welcome to this weeks edition of Wholesome Whole Foods! Another week gone, another week to be healthy for our mind and bodies!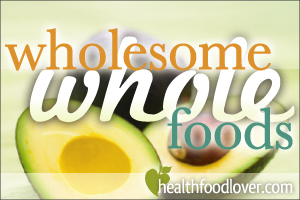 What is Wholesome Whole Foods all about?
Wholesome Whole Foods is a blog carnival where you can share your wholesome, healthy, real food posts. They don't have to just be recipes, they just have to be to do with real food and healthy living.
What if I can enter my link today?
Don't worry if you can't enter your link today the linky will be left open till Sunday each week.
Things to remember…
Make sure you link back to this weeks edition of the carnival (not my home page) so everyone can find everyone all the great posts in the carnival. (Unfortunately unlinked posts can't be counted in the carnival).
Winner of the Green Pastures Cod Liver Oil (From GPA Wholefoods)
Congratulations to Deb! You've won the Osolo Orange-Flavoured Cod Liver Oil! I'll be emailing you to find out your details.
Health News
I decided I will add a little section called 'Health News' to Wholesome Whole Foods each week with interesting news in the world of health and nutrition!
This week there has been an announcement of the Australia Register of Naturopaths and Herbalists (ARONAH) who will regulate and set standards for Naturopaths and Herbalists. This is great news as apparently right now anyone can them self a 'Naturopath' and practice without doing any study or training which is very concerning. The ARONAH has "been established to provide minimum standards of education and practice for naturopathy and herbal medicine…. this independent register which aims to mirror government requirements for the regulation of health practitioners". This is both great for qualified practitioners and good to help protect the public. To read more about ARONAH, view their website.
My Submission For This Week:
Book Review: 'The Healthy Skin Diet' By Karen Fischer (Plus An Adapted Recipe)
Also please comment below to let everyone know all about your post!
-Michelle.
Link up: