[Giveaway has now ended.]
On Saturday I went to the Healthy Food and Lifestyle Show  at the Melbourne Exhibition Centre which went from April 9-11.
It was great seeing so many 'Healthy' stalls. Luckily there were many which I do consider healthy. But other stalls not so much. It was great trying many different foods aswell!
One stall I particularly liked was the Lola Berry Stall. She is a Naturopathic Nutritionist who studied at the Endeavor College of Natural Medicine. She was really lovely and it was great to meet her! Check out her web series at
lolaberry.com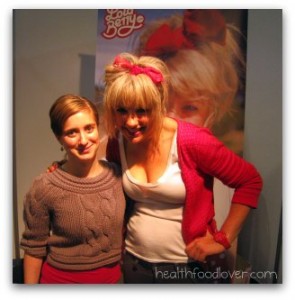 I also liked the various organic and farmer market stalls! I even picked up some fresh organic  kale.
…
Now that brings me to the giveaway. From the show I have so many goodies I want to give to one lucky reader!
1 x Nutrient Water
1 x Lola Berry bookmark
1 x Work Safe stress ball
2 x Miss Organic $10 vouchers
1 x 'I Love Miss Organic' sticker
1 x Eco Store Baby Moisturiser sample
2 x Eco Store Baby Body was samples
3 x Eco Store Hand Wash (Orange & Patchouli) sample
1 x Little Innocents Hair & Body Wash Liquid (organic) 30ml
2 x Master Naturals' Organic Sultanas 30g
2 x Honey Delights' Pure Honey Candy
2 x Nativa Nature's Sweetner single servings
1 x Sugar Fair-trade Organic single serving
1 x Jasper Instant Coffee single serving
3 x Honey Sticks
1 x Milo 20g
1 x Yunnan Tuocha (Ginseng) tea bag
1 x Riverside Australian Pecan Nuts, 30g
1 x Tisa Australian Corn Snacks
1 x Be Natural Trail Bars
1 x Uncle Toby's Body Wise Apple Delights
1 x Sultana Bran 50g
1 x All-Bran 50g
1 x Just Right 50g
1 x Polarity Tea (Australian Certified Organic)
Not Pictured:
1 x Weight Watchers Macadamia & Cranberry bar, 34g
1 x Weight Watchers Chocolate Flavoured Mousse
1 x Vegetable wash bag
1 x Cocolo Chocolate Dark 70%, 100g
1 x Cocolo Chocolate Mint Crisp, 100g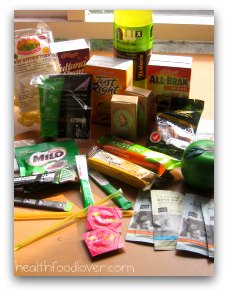 So there are quite a few things to win!
How to enter:
From today, 11th April,  you have just over one week to enter. *UPDATE: I'm now extending the time to enter for four more days and the winner will be chose on Friday the 23 of April* and I will choose the winner from Random.org. The giveaway is open to anyone.
For chances to win you can do any of the following:
Follow me on twitter and tweet about the giveaway.
Blog about the giveaway and link back to the giveaway.
Follow my rss feed.
Sign up to my rss feed updates by email.
Send this blog post to 3 x people.
Add me to your blog roll.
You get an extra chance to win with each of the above.
Please comment below on how you entered (otherwise I won't know).
Good luck!
______________________________________________________
Want more Health Food Lover?

You can Subscribe to Health Food Lover by Email or you can download the feed in a reader. You can also follow her on twitter. If you have any questions or comments you can email her at: healthfoodlover [AT] gmail [DOT] com