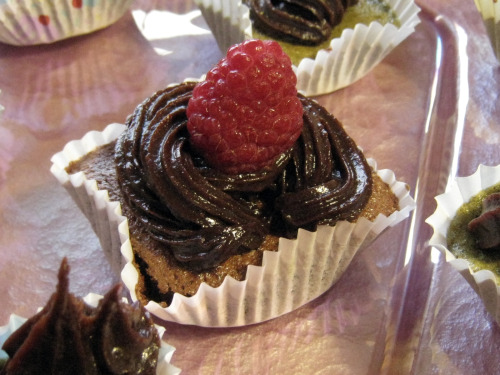 Matcha Mint & Choc-Mint Spelt Cupcakes!
These are so cute and sweet little cupcakes! Thankfully they are refined sugar-free and refined-flour-free! And they are completely dairy-free (however they are not egg-free). And I know your probaly thinking they must be pretty unhealthy, but they are not as bad as you may think- they are infact quite good for you!
Why? Well instead of using refined white flour I have used wholegrain spelt flour. (If your an aussie have a look at the NHRMC (National Health and Medical Research Council)-they have put out a pdf (Dietary Guidelines for Healthy Eating: Foods for Health) which has some information about wholegrains, healthy food etc.) The sweetner I used was raw honey for sweetness and a more nutritious recipe. (White sugar and flour far are less nutritous than wholegrain flour (or sprouted wholegrain flour) because of milling, hulling and processing of grains and sugar. Other Sweetners you can use are whole cane sugar (which is juiced and dried from the sugar cane) known as Rapadura sugar or other sweetners such as real maple syrup, rice syrup and yacon syrup).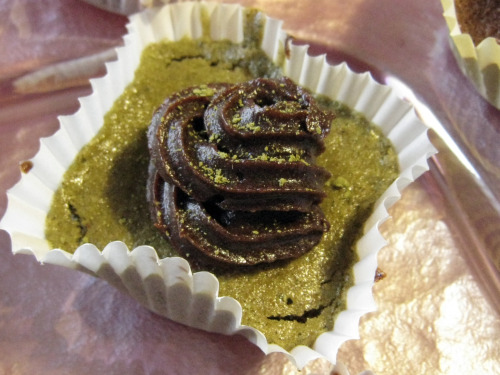 Something else I've used in this recipe is a japanese green tea powder called Matcha Green Tea. I've used this in the Matcha Mint Cupcakes to give them a beautiful green colour (which didn't change during cooking) and for an interesting flavour. Both cupcakes also contain an infusion of a local Australian mint variety called Mentha australis (River Mint), however you can use any mint varieties you find locally. For those of you in Victoria (Australia) there is a really great herb company/farm called Southern Light Herbs which you can buy mint (as well as many other herbs)-the herbs are usually in most health food shops so just ask your local health food shop if they have some or can order you some mint, if not you can call southern light herbs directly. If there are no fresh mints available you can just use any dried mint you can find.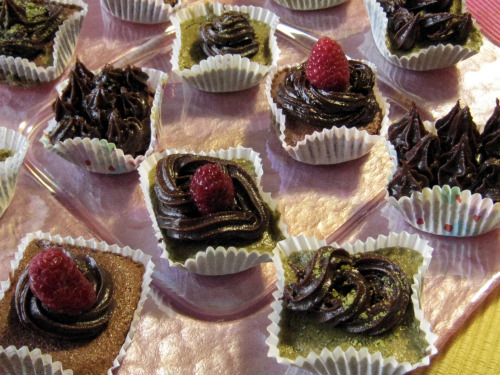 The Icing/frosting on the cupcakes was inspired by the icing recipe for Ani Phyo's Chocolate Raspberry Ganache cake (I made a blueberry version) and also has an ingredient that you will never guess if you tasted it: Avocado! And it is sweetened with dates and maple syrup to create a lovely chocolate icing!
Hope your enjoy these recipes!  
Michelle.
Matcha Mint Cupcakes/ Chocolate Mint Cupcakes

For Matcha Mint: use matcha powder.

For Choc Mint: use cacao powder.

Yield: about 12 (or 24 if  you double the recipe and make a batch of both matcha and choc cupcakes)

Ingredients for Cupcakes:

75 g (2.625 ounces)Â wholegrain (or sprouted) spelt flour
3/4 tsp. baking powder
1/2 tsp. himilayan sea salt
2.5 eggs, seperated (organic and free-range, if possible)
1/3 tsp. bicarbonate soda (a.k.a baking soda)
1 tsp. vanilla extract
30g honey, melted on low heat
1 tbsp. light olive oil 
1 1/2 tbsp. infusion of mint (strong)
1 heaped tbsp. matcha green tea powder or cacao powder

Ingredients for Chocolate Icing:

1/2 c. of dates, pitted and chopped
1/2 c. cacao butter, melted
1 tsp. vanilla extract.
1/2 c. maple syrup
1/2 c. cacao powder or carob powder
1 1/2 avocado

Steps for Cupcakes:

Make your mint infusion: chop the mint finely and add to boiled water. Leave to steep for 5-10 minutes and then let it cool. Strain or leave the mint in the infusion.
Pre-heat your oven to 110 degrees celsius.
In a bowl sift your flour, cacao or matcha powder, salt, bicarbonate soda (baking soda) and baking powder.
In another bowl seperate your eggs. Put your egg whites to the side in another bowl. Take your egg yolks and beat with a whisk or electric mixer. Add the vanilla, honey, cooled mint infusion, oil and whisk till the egg yolks become aerated and light in colour.
Stir your flour into the egg yolk mixture.
Now with your egg whites beat until soft peaks form. Stir this into your flour-egg yolk mixture.
Pour your cupcake batter into patty pans.
Place your filled patty pans into either a muffin tin (to help support their shape) or place them on a tray.
Cook your cupcakes for 20-30 minutes (at 110 degrees celsius)Â or until a toothpick comes clean. Once cooked through leave your cupcakes to cool.

To make the icing:

In your food processor (or small blender if you have one) blend up your real maple syrup and dates until it becomes a smooth caramel-like syrup.
Add your melted cacao butter, cacao powder and vanilla extract and blend again.
Now add your avocado (mash it first) and blend until it is completely smooth. Have a taste- if is too avo-y add some more cacao powder and maple syrup and adjust to your liking.
Use a piping bag or spread your icing on your cupcakes and decorate how you like. I decorated my chocolate ones with a fresh raspberry and the matcha ones with a sprinkle of matcha powder.
This post was submitted to Food Renegade's Fight Back Fridays January 8th 2010!
Check back there for more health food loving posts!