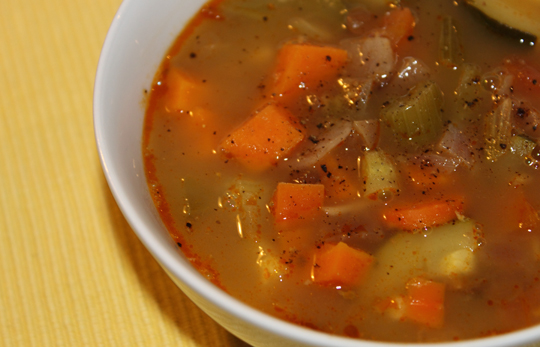 Recipe: Spiced Lentil & Veggie Soup

Allergen info/recipe info:

This recipe is gluten-free and can be made dairy-free by using coconut oil instead of butter.

Ingredients:

1 tbsp. butter/ghee/coconut oil
1 red onion, peeled and chopped
1/2 bunch celery (celery washed & leaves discarded), chopped into small pieces

spices

: 1 tsp ginger, 2 tsp. cumin powder, 1 tsp. coriander powder, 1 tsp. sweet paprika
2 black peppercorns, whole
1 tsp. sea salt
coriander roots, washed and chopped
1/2 sweet potato, chopped into cubes
1 carrot, washed and chopped into cubes
1 zucchini, washed and chopped into cubes
1 roma tomato, washed and chopped into cubes
1/2 C. dry green/french/puy lentils- soaked in water for about 1 day beforehand (it rehydrates to about double the quantity)

fresh herbs

: a few leaves fresh oregano, a sprig of fresh thyme
1 cup. beef bone broth or vegetable broth
water, extra

To serve

: fresh coriander leaves, lemon juice, (optional): sour cream & olive oil.

How to:

In a pot heat the butter add the onion, pieces, celery, peppercorns, salt and coriander roots until the onion is soft.
Add cubed sweet potato, carrot and zucchini, and tomato.
Add lentils, fresh herbs , broth and water. Put the lid on and cook on low till all the veggies & lentils are soft.
When it's ready add the fresh coriander and lemon juice.

Serve the sour cream & a dash of olive oil (optional).