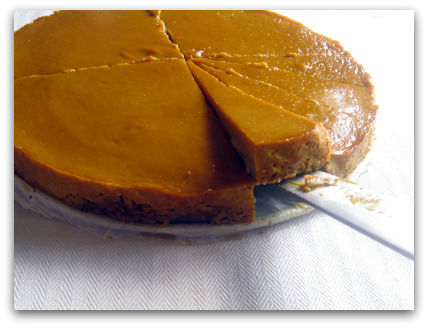 Okay I have to say this may not be exactly like a traditional pumpkin pie, it's maybe more like a tart.. but what ever it is, it tastes really good. It also is gluten free and dairy free. Â It is nicely spiced and has a delicious creaminess due to the coconut milk and the base has a nice crunch made from almonds (and buckwheat if you add it) and coconut oil.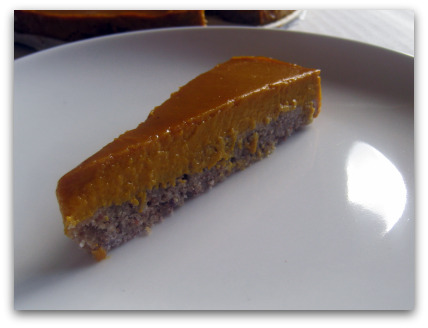 Pumpkin & Coconut Pie Recipe

Crust:

2 cup almonds or pecans (ground) (or use 3/4 C. almonds, 1/4 C. buckwheat) (you can soak them overnight and then drain off the water).
1 T. coconut oil
½ cup coconut sugar (adjust amount to your liking)
A bit of cold water
2 egg whites, beaten to soft peaks

Filling

1 can coconut milk
1.5 C. steamed pumpkin
½ C. coconut sugar
1 T. mixed spice
1 T. coconut oil
1 t. vanilla extract
2 egg yolks, beaten

How to make the crust:

In a food processor or high-speed blender, grind the almonds and coconut sugar till they are ground.
Using clean hands rub the almond mix with the coconut oil and cold water until it resembles bread crumbs.
Beat your egg whites until they form soft peaks. Fold in your egg white mixture into the almond-buckwheat crumbs.
Spread your mixture onto a coconut-oil-greased and baking-paper-lined pie dish and cook in the oven for 20-25 minutes or until firm and lightly browned.

How to make the filling:

Steam the pumpkin until soft.
In a saucepan, using a stick a blender, blend the coconut milk, pumpkin, sugar, oil and vanilla extract. Taste it- if it's not sweet enough to your liking add more sugar. If you can't really taste much of the mixed spice- adjust to however you like it. When you're happy with the taste blend the mixture till smooth and creamy with a stick blender.
Now it's time to temper the eggs. In a separate bowl beat the egg yolks. Keep beating the egg yolks, and now add a tablespoon at a time of the pumpkin mixture, while still beating (so the eggs don't begin to denature and cook) until you have beaten all the pumpkin mixture into the egg yolks.

Now pour the filling onto the crust and bake for around 30-40 minutes at 160 degrees C or until the centre of the pie does not move.

© Michelle Robson.
Enjoy :)
Posted to Make It Yourself Monday, Two For Tuesdays, Slightly Indulgent Tuesday, Real Food Wednesday